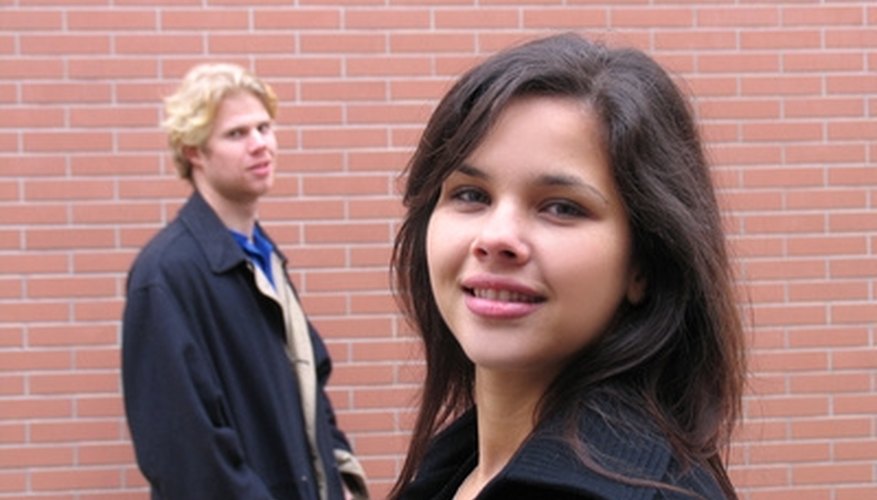 Don't Be Shy
It is important when flirting with a girl to show her that you have a positive attitude and possess self confidence. Don't wait for a girl to approach you. Take charge and make the first move. Girls like men who are confident. Exuding too much confidence is never a good idea though, as a girl may find you too full of yourself.
Eye Contact
Eye contact is a powerful communication tool that, when used correctly, can be incorporated into flirting with a girl. Looking playfully into a girl's eyes helps grab her attention. Be careful not to stare though, as this may create an awkward feeling.
Compliment
A little bit of flattery goes a long way when flirting. Compliment a girl on her clothing or her hairstyle. Make sure the compliments are genuine, so as to show her that you are honest and truly find her attractive. When you make a girl feel good about herself, she will want to spend more time with you.
Show Interest
A girl will find you appealing when you listen to what she says to you and you show a real interest in what she is talking about. Get her to open up and talk to you about herself. Ask her a lot of questions about her life and get to know who she really is. Allow her to share her positive life experiences with you and get to know her well. This sharing of her life history will aid in the construction of a common bond between the both of you.
Smile
A subtle smile will leave a with girl a good first impression of you. A smile is an unconscious method of communication that tells a girl you are interested in her. Smiling indicates that you are happy and easy going. Girls will want to get to know you when you flash them a smile and give off a positive vibe.
Don't Be Too Serious
Flirting is all about having fun. Do not be too tense or scared as a girl will pick up on your uneasiness. The process of flirting should be fun and light-hearted, not painful and uncomfortable. Be funny and entertaining and a girl will want to spend more time with you.
View Singles Near You