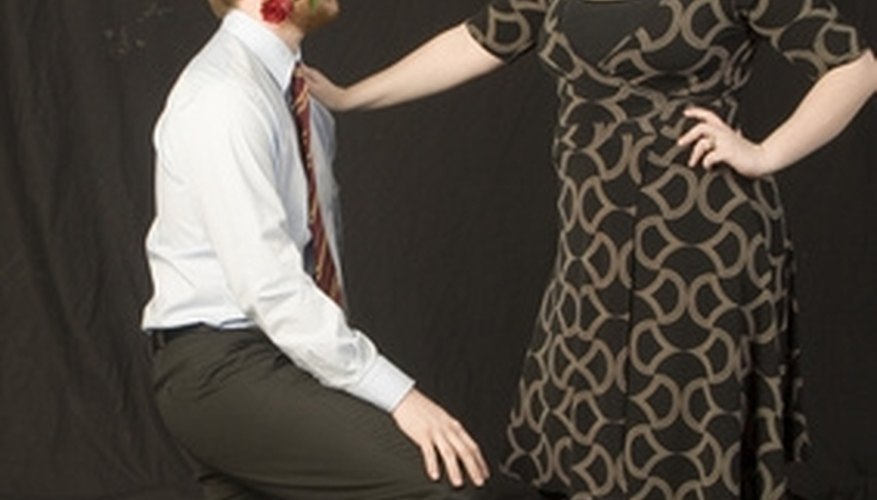 Conflicts and troubles are a normal part of a dating relationship. When you get into a fight, don't panic and assume that it's the end of the world. Communicate with your girl and try to resolve the problem. If she is not ready to talk, give her a cooling-off period (one or two days) and try to initiate contact again. Many women see persistent pursuit (not stalking!) as a sign that their love interest is serious about getting them back.
Call Her
Even though she may not pick up immediately, calling her repeatedly shows that you're interested in getting her back and giving up too soon means that you were not that interested to begin with. Call her a few times and, if she doesn't pick up, wait a few hours and call again. Your calling pattern should show that you're driven by logic and not just emotion.
Call Her Mom
Although calling her close friend might seem like the logical thing to do, girls tend to respond better when you get the people close to them to be involved in your quest to get them back. Besides, having her mom on your side increases your chances of getting her back.
Ask Your Family for Help
Just like calling her mom to ask for help, having your family members involved in trying to get her back also shows your level of seriousness. Don't get any outside party overinvolved, however. They do not need to know all the details of your breakup or your relationship.
Send Her Flowers (and an Apology Letter)
Your girl would probably respond to flowers and an apology letter if it were sent to a public place, for example, her school or place of work. Having other people around to witness the apology might make it more sincere in her mind.
Go See Her in Person
Nothing beats apologizing in person. It will give you the opportunity to talk one-on-one and iron out differences immediately. Don't expect that you will win her back after one visit, though, or that she will even want to see you. Sometimes, the effort alone goes a long way.
Give Her Some Space
Giving her some space means doing a few gestures to get her back in one day but also giving her time to come to the decision on her own. It shows that you respect her decision to be apart and understand that you've done wrong and that she won't immediately jump into your arms. It will also give her time to miss you and all the wonderful things she liked about your relationship.
Don't Just Promise to Change. Change.
If the breakup was caused by something you did wrong, then fixing the problem is a very good idea. She may not be with you all the time, but she will probably sense your change in attitude and be more likely to take you back.
Treat Her Like a New Girl
You may have gotten comfortable in your relationship before the shake-up, but asking for a girl back is almost the same as asking a new girl out entirely. Keep in mind the things you did to win her trust in the first place and try to do those things again. It is often harder the second time around. Never assume that she should just fall into your arms like she did before.
Speak Publicly about Your Love for Her
Whether to your friends or via Facebook or Twitter, speaking publicly about her will let her know that you have been deeply affected by your time apart. If you choose to go the Facebook/Twitter route, be sure to keep things classy by not mentioning her by name.
Remind Her of the Wonderful Relationship You Had
By now she would probably be missing you as well and yearning for the good times you had. Remind her about them by writing, in person, or by talking to her about them. Ask her if you could just do one of those things again (try to make it more special by doing something she's always wanted) and hope she says yes.
View Singles Near You
Resources
Cite this Article
Choose Citation Style
Nwaka, Chika. "10 Ways to Get a Girl Back." Dating Tips - Match.com, https://datingtips.match.com/10-ways-girl-back-7246245.html. Accessed 02 June 2020.
Nwaka, Chika. (n.d.). 10 Ways to Get a Girl Back. Dating Tips - Match.com. Retrieved from https://datingtips.match.com/10-ways-girl-back-7246245.html
Nwaka, Chika. "10 Ways to Get a Girl Back" accessed June 02, 2020. https://datingtips.match.com/10-ways-girl-back-7246245.html
Note: Depending on which text editor you're pasting into, you might have to add the italics to the site name.