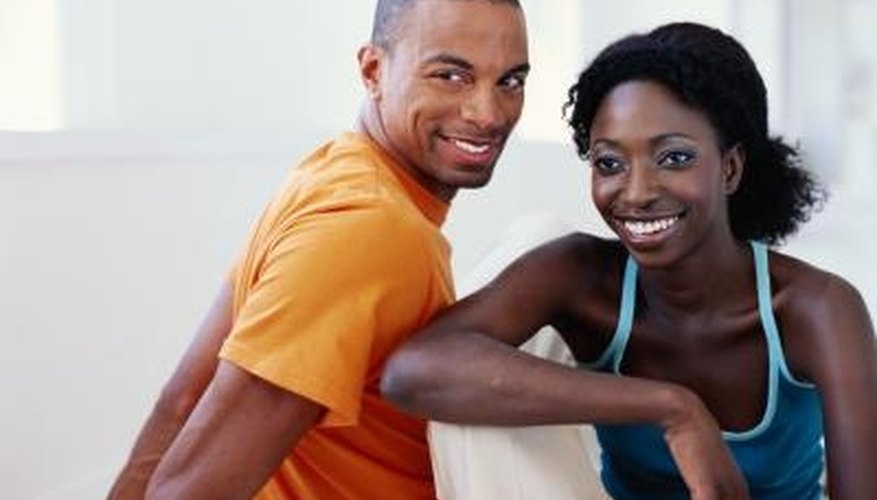 Couples Movie Night
Create a couples movie night in your own home. Each person should write a list of two movies about couples on a small strip of paper. Place the movie titles in a jar and randomly draw one of them to watch for the evening. Make popcorn and drink soda to make it feel as if you are at the movies. Enjoy the movie while snuggling with your significant other on the couch.
Fish Bowl Questions
No matter how long you have been with your partner, there are always things you can learn about her. Write a list of 10 questions you would like to ask the other person on a sheet of paper. Cut out each question and place them in a fish bowl. If you do not have a fish bowl, you can use any glass jar or container you have sitting around the house. Draw one question out of the bowl and ask your partner the question you drew. Keep doing this until all questions in the fish bowl are answered.
Games
Board games provide you and your partner with many opportunities for a fun and exciting evening. You can choose from a variety of purchased trivia or strategy games, depending on your personal preferences. If you prefer, you can even use the time to create you own couples board game pieces. Take any board game and use it as the basis for your game. Make you own personal game pieces using photos or small objects around the house that are special and relevant to you as a couple.
Cooking Night
Cooking is an activity that provides you and your partner with an activity to keep you both busy as well as provides a finished product to enjoy together. Plan a cooking night and assign each person a part of the meal. Assign one person to cook the appetizer and dessert, and the other to make the main course. Determine a theme or style of cooking prior to the night, but keep the menu secret from your partner until it is time to sit down and enjoy the meal.
View Singles Near You