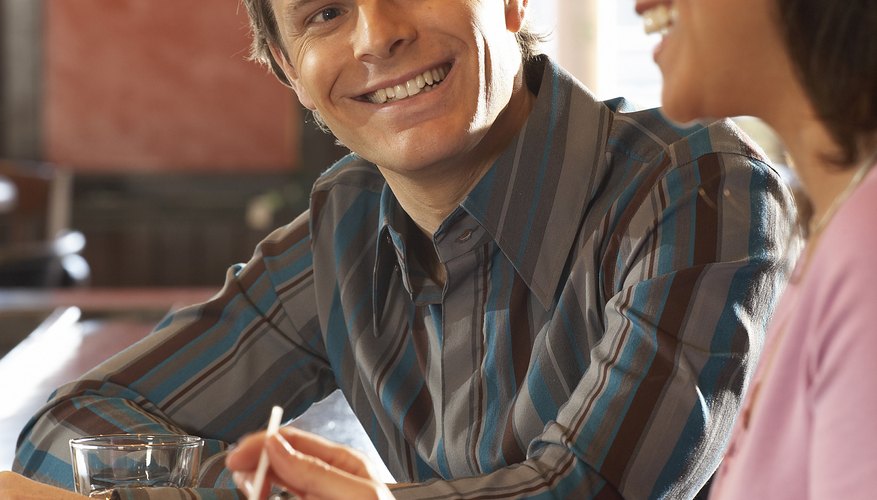 Step 1
Put your best self forward. Women look for men who are well-groomed, well-dressed and well-spoken. Also, a smile goes a long way.
Step 2
Be courteous and respectful -- not only to the woman -- but to everyone. Open car doors, listen attentively, grab a napkin for someone who needs it and so forth.
Step 3
Strike up a meaningful, honest conversation and listen. If you're genuinely interested in knowing how she got into her line of work, where she's from or if she likes animals, then ask and listen while making eye contact.
Step 4
Find some alone time with the woman. Asking her on a date in private will demonstrate to her that you're not showing off and that you respect her honest, private answer.
Step 5
Have a plan. There's no need to have a detailed, extravagant date in mind, but know what you'd like to take the woman to do, be it going to coffee, catching a matinee or visiting a museum.
Step 6
Ask her on a date. If you are already acquainted with this woman, say something to the effect of, "I've always really enjoyed hanging out with you, and I'd really like to continue getting to know you. Would you be interested in grabbing dinner on Friday?" If you've just met the woman, asking in a similar way will work, such as, "I've really enjoyed talking to you this evening. Can I take you to coffee this week?"
Step 7
Accept her answer respectfully. If she accepts, smile, tell her how excited you are and make sure you have her contact information. If she declines, smile, thank her for her honest answer and reiterate that you've enjoyed talking to her.
Tip
Women who are available and like you for you are the kind of women you want accepting date proposals; if a woman declines a date, it's because she either can't or isn't interested, which means you wouldn't want to go on a date with her anyways.
Warnings
Don't ask a woman on a date in front of people. She might say yes solely to not embarrass you, then cancel the date later, or she may say no in front of everyone. Not to mention, that puts a lot of pressure on both you and her.

Never try to embarrass a woman who declines a date by speaking poorly of her or asking out a friend of hers.
View Singles Near You