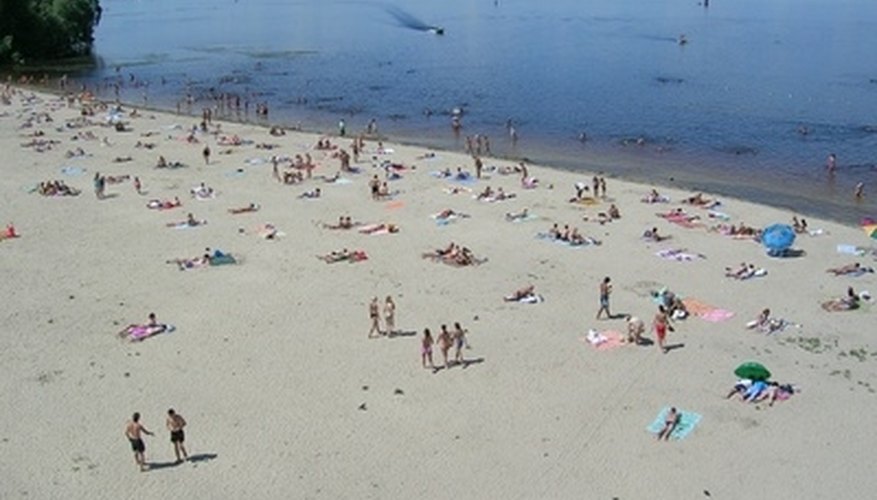 Dress in clothing that suits your body type. If you have an athletic build, wear a nice pair of swim trunks. If you have a belly, cover it up with a light-colored t-shirt. Finish the look with sandals (no socks!) and a stylish pair of sunglasses.
Set up your beach towel, umbrella, etc. near the back of the beach, in the middle of a high concentration of girls. This lets you talk to a variety of different girls without drawing too much attention to yourself. Setting your stuff in the back gives you a good vantage point, so you can spot other girls who strike your fancy.
Play a beach game with your friends, such as frisbee or volleyball. Choose a game that you are good at. This way, you will attract positive attention from girls.
Take a break from your beach game to enjoy a refreshing drink and some music.
Offer sodas to nearby girls.
Ask nearby girls to recommend a radio station. Make conversation about music.
Ask girls if they would like to join you for another game of volleyball, frisbee, etc. If they decline, stay cool and ask another group. Relocate to another part of the beach if necessary.
Take another break from your game and make conversation with the girls you played with. Compliment them on their sports skills if they played well, or offer to give them some pointers if their game was off.
Things You Will Need

Sports equipment
Radio
Cooler with beverages
View Singles Near You