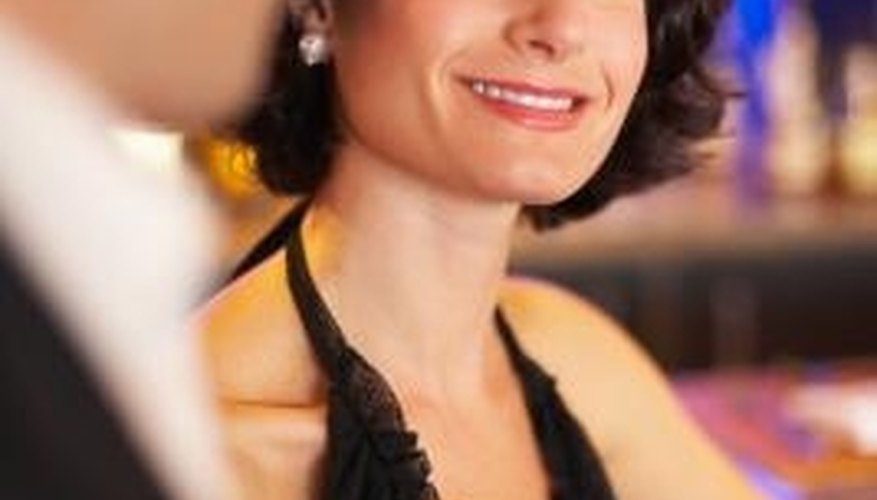 Freshen up and dress appropriately for the occasion. Even if you are going out for a casual dinner, dress nicely. Do not wear sweats or yoga pants. Look your best by taking time to do your hair and nails. Make sure your clothes fit comfortably. If your clothes are uncomfortable during the date, you won't be able to focus on him or the conversation. So do not try to squeeze into jeans that are too tight. Also, wear perfume. Scents can linger with a man's senses even after the date. Just don't go overboard and wear too much, as some perfumes can be overpowering.
Show him you are a confident person. Showing a man that you are sure of yourself and believe in yourself is attractive. Not only should you share your dreams, but let him know your plans to get there. Doing so shows him you are a woman in control and you are not looking to be saved. Also, let him know you are unique by sharing what makes you special. This could be a talent, interest or hobby, such as playing an instrument, taking part in a recreational sport or volunteering for an organization.
Be yourself. It's important to share and discuss common interests, but don't lie about who you are. During a first date you are already building trust. Lies will catch up to you and you can't build a relationship on fabrications. Also, let your date know about any minor weakness you may have. It makes you human and he will feel more comfortable with you.
Show an interest in him and be interesting. When your date is talking, make sure you are actively listening to him. Make sure you maintain eye contact, smile and nod your head to let him know you are paying attention to his words. Ask him questions or have him elaborate on a story. Have a balance in the discussion by not dominating the conversation. Keep up on current events so you have something to talk about.
Flirt with him and have fun. Flirting is a way to show him you have more of an interest than just being friends. Mirror his gestures and movements. Lean into him while you talking. If you are standing, stand closer to him than you normally would with a friend. Men also like a challenge or playful banter, so don't feel you have to agree with everything he says. This also shows you are a woman with your own opinions. Stay present and be engaging.
Vocalize your interest in him by subtly letting him know you would be interested in being asked out again for another date. Say "I had a good time and I look forward to doing it again with you" when finishing your date.
View Singles Near You