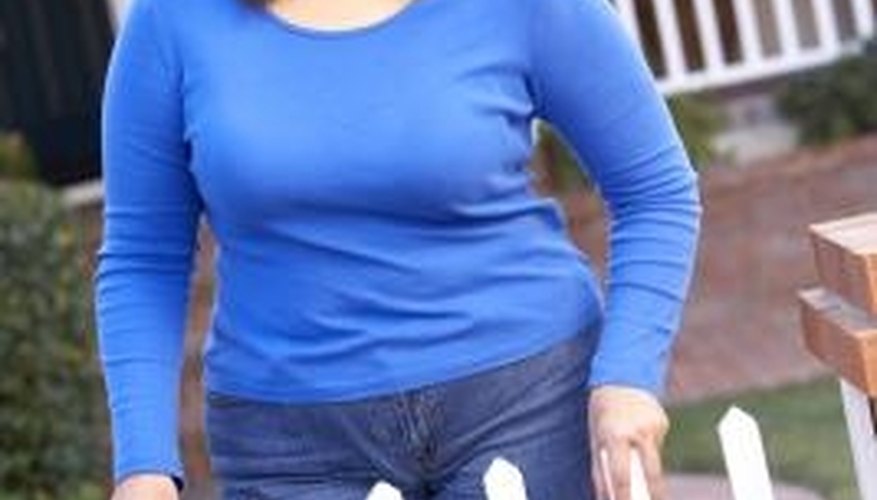 Build your self-confidence. Learn to dance salsa, or register for the drawing class you always wanted to take, so you'll feel the pride of accomplishment. Remember that when you exude self-confidence, you are more attractive to other people.
Look in a full-length mirror at your entire body, find your best physical attribute and think of ways you can accentuate it. For example, if you have a relatively small waist, consider emphasizing it with a belt or well-placed scarf. Wear shirts that highlight, in a classy way, your ample bosom -- instead of donning big, sloppy shirts. Focus on the things you like about your body, instead of what you don't, and you will feel more attractive.
Dress in clothes that are attractive and fit well. Stay away from styles designed for smaller women. Make sure the clothes you wear accentuate the features you like and take focus away from your extra weight.
Use cosmetics, as men are drawn to faces enhanced with make-up. Choose a simple make-up routine that includes foundation and blush, if you are just beginning to use cosmetics.
Live your life. Participate in events that keep you active. Remember that being overweight does not mean you can't hike, dance or play volleyball. Travel with your friends, and volunteer for those who are less fortunate. Living a life that is full and happy will draw men to you.
Be pleasant to be around. Smile often and laugh with others. See the good in others, and avoid negative behaviors such as gossiping. Remember that a pleasant person is more likely to attract a man, no matter what her weight.
Be well-informed about the world, because men like intelligent women regardless of their size. Read the newspaper in the morning while eating breakfast, or put on the early morning news. Find out what's happening in the world. Order a news magazine instead of the latest fashion magazine. A man will be impressed when you can talk about Mideast politics instead of the latest Hollywood gossip.
View Singles Near You