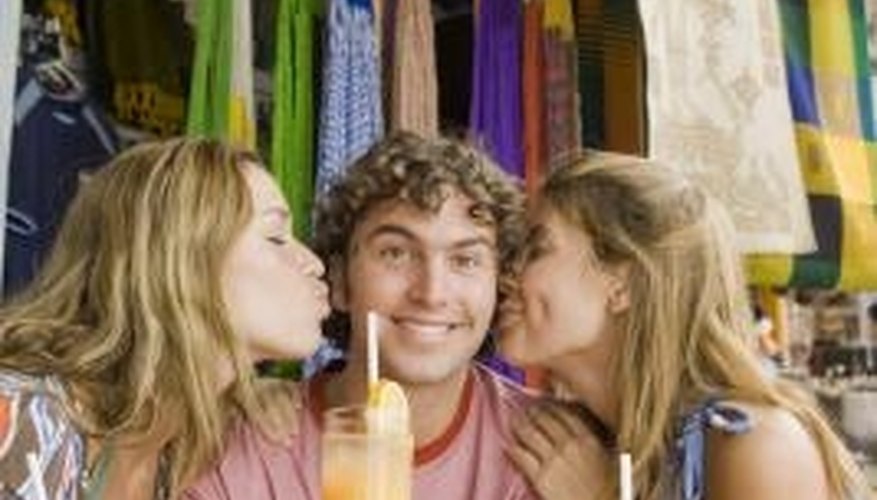 Approach situations confidently. Most women find confident individuals to be the most attractive. Acting nervous, fidgeting, bumbling speech and clammy hands can be huge turn-offs for women. If you always act like you know what you're doing, then women will think that you do.
Have fun. Don't become shy and reserved when in the presence of a woman who you want to attract. You should go about your normal activities and enjoy yourself. If you are having fun, then women will want to join the fun. So, be yourself and have a good time.
Keep your wingman nearby. A wingman can be female or male and is a person who will aid you in your attempt to attract a woman. A wingman makes your job easier by helping with conversation, talking to a woman's friends or mentioning your good qualities, which saves you from having to brag about yourself.
Pay attention to yourself. This may seem selfish, but you shouldn't become preoccupied with what a woman is thinking. Pay attention to what you are doing and saying, and women will see your lackadaisical demeanor as a sign of confidence.
Put the ball in her court. Once you've met a woman, you may want to exchange phone numbers. Do not promise to call her or else you will seem needy and overly anxious. You should tell her to call you, which allows you to exert less effort and forces her to decide when to call.
Tip
Be sure to always smell good and look good when you go out, because you never know when you might bump into the woman of your dreams.
Warnings
Do not pretend to be confident, but be confident. Every person has good and bad attributes, all of which may be ignored or augmented. Find your good attributes and allow these to shine.

Keep in mind that some women may feel uncomfortable about calling you. If you think this may be the case, then you can feel free to call her instead.
View Singles Near You