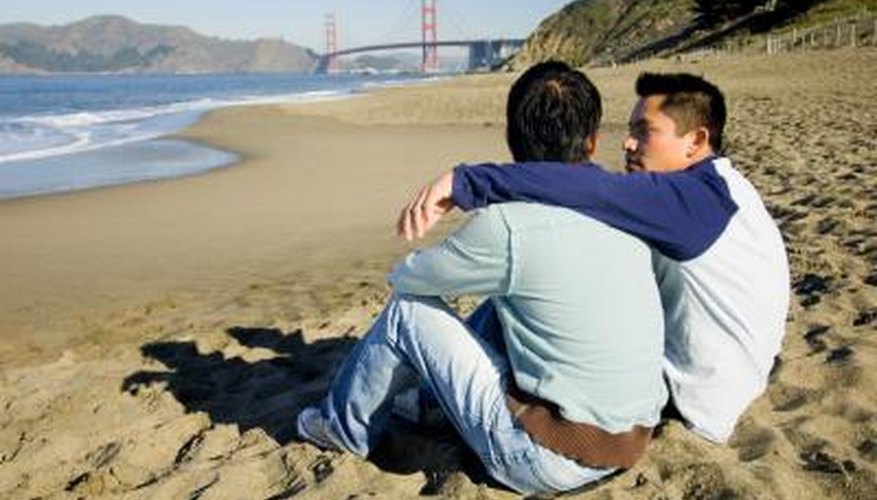 In This Together
A large part of being gay involves a sense of community. A 2012 Gallup poll indicates that around 3 percent of people identify as gay. This number may seem small, but that works out to about 9 million Americans. While people in some parts of the country may not be as open about their sexual orientation, it isn't difficult to find gay people in larger metro areas such as New York City or San Francisco.
Proud Culture
Many gay communities have a sense of culture. Organizations host events, parties, parades and festivals to celebrate gay life. While these gay pride events take place throughout the year, the largest is in New York City and is scheduled at the end of June, around the anniversary of the Stonewall Riots. The riots, which occurred in 1969, were a major impetus for the gay rights movement and helped to let America and the world know that the lesbian, gay, bisexual and transgender (LGBT) community was going to work for its rights. Gay pride events offer gay people and others who love them a time to get together and celebrate.
Colorful History
Being gay also means acknowledging a long history of gay icons. Gay people have been making history as authors, artists, politicians and more throughout history. This list includes famous artists such as James Baldwin, who wrote "Giovanni's Room," as well as Alice Walker, author of "The Color Purple." The long list of gay historical figures shows that being gay can be an exercise in freedom and creativity, as well as a way to use an identity to support monumental change.
Change Has Come
America has made many strides for gay people. According to Freedom to Marry, an organization devoted to helping same-sex couples obtain marriage rights, 19 states allow same-sex couples to marry and the other 31 states are paving the way for this change. As time passes, more people have become accepting of gay people. According to a 2014 Pew Research Center poll, in 1996 approximately 65 percent of Americans opposed same-sex marriage and around 30 percent supported it, while now about 40 percent of Americans oppose it and 54 percent accept it.
View Singles Near You