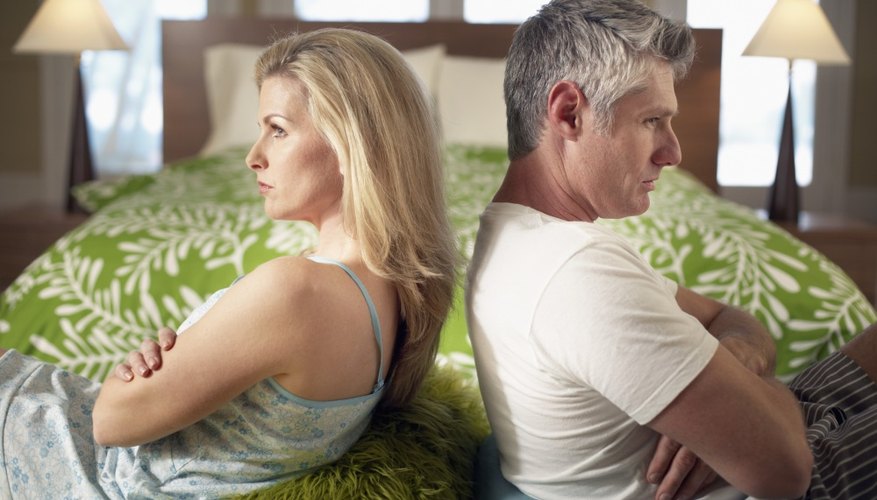 Breaking up with someone is not easy, but breaking up with someone you live with is even harder. You will be forced to deal with practical matters, such as finances and property or shared assets, on top of the inevitable emotional difficulties that accompany any break up. There's no definitive way of breaking up with someone, but there are certain things you should avoid for the general well-being of both parties, and there are other things you can do to help the moment pass by as smoothly as possible.
Managing the actual break up
Step 1
Make sure you know what it is you want to say and why it is you want to break up with this person. If it helps, write yourself an email in order to get your thoughts clear. Breaking up with someone you live with is going to drastically change both of your lives and things can be made a lot easier if you are able to communicate why you need to make this huge decision to your partner.
Step 2
Tell your partner in private, be direct and make sure you are kind enough to give them plenty of time to ask as many questions as they need to ask. If you leave a note on the fridge or run out of the door immediately after breaking up with them, you're not leaving them with much time to process the information and you're not treating them fairly either.
Step 3
Tell the truth, as difficult as it might be. It can be easier to fall into a pattern of clichés in a break up, but spouting lines from a movie like, "It's not you, it's me," or, "I'm not able to be in a relationship right now," is cruel. Be honest and explain exactly what it is you cannot continue with and why it is you have decided to leave. Your partner deserves the truth and it will help them to move on quicker if they know the truth.
Dealing with the aftermath
Step 1
Be prepared for the next step. Decide beforehand whether you intend to continue living under the same roof as this person or not. If you decide to move out in that moment, have a bag packed and have somewhere to go to that same day. A delayed exit can make things worse.
Step 2
Do your sums and work out how much it would cost to continue living in your home without the financial support of your partner, as he or she may decide to leave immediately and stop contributing to the rent. It may seem cold to approach your break up by focusing on finance, but it is an essential factor to consider in the break up of someone with whom you love.
Step 3
Communicate with your partner and try to come to an agreement on the important things. For instance, if you have to live together until you can find someone else to take over your lease or until you can sell the house that you both own, lay down some ground rules about the living arrangement. Decide whether or not to share food, how to share the living space (sleeping arrangements could be difficult) and what the policies should be in terms of bringing people back to the home. It's then vital that these rules are adhered to by both parties.
Things to avoid
Step 1
Do not break up with your partner via email, text message, or telephone. A break up must always be done face to face. It helps to close things properly and it is important to show your partner the respect that he or she deserves, regardless of the circumstances. Consider how you would feel if you were dumped on Facebook before you treat someone else with such disrespect.
Step 2
Never break up in public or under the influence of alcohol or other drugs. Breaking up in public can be extremely embarrassing for your partner and can make other people feel uncomfortable, especially if surrounded by friends or family. Furthermore, breaking up whilst under the influence can mean that you say things you don't really feel or believe and this can lead to unnecessary heartache on both sides.
Step 3
Avoid the slow break up which is brought about by being mean to your partner. Breaking up can be hard, but if you don't want to be with the person you live with anymore, it's your responsibility to them so. A cowardly approach to breaking up is to make snide comments about your partner's looks, to deny them any kind of sexual contact and to put them down at any given opportunity until they eventually fall out of love with you. This approach is not only cowardly, but it can also take a long time to play out and by this time a lot of emotional damage will have been caused.
View Singles Near You
Things You Will Need

A possible place to stay
Finances to help cover unexpected expenses
Friends and family for support
A suitcase of things in case you choose to spend some time away from your home
Tip
Consult a friend or family member before you break up to make sure you have a place to stay. You might be hoping to be able to share living space with your partner until all practical ties have been dealt with, but you should have a back-up plan regardless as you will have no idea about how your partner might respond.
Warning
If your reasons for breaking up with your partner relate to emotional or physical abuse, it might be a good idea to break up with someone alongside you for support. If you are concerned for your physical safety, it is important not to go through the break up on your own.
Cite this Article
Choose Citation Style
Chandler, Tracey. "How to breakup with someone you live with." Dating Tips - Match.com, https://datingtips.match.com/breakup-someone-live-12270534.html. 09 June 2015.
Chandler, Tracey. (2015, June 09). How to breakup with someone you live with. Dating Tips - Match.com. Retrieved from https://datingtips.match.com/breakup-someone-live-12270534.html
Chandler, Tracey. "How to breakup with someone you live with" last modified June 09, 2015. https://datingtips.match.com/breakup-someone-live-12270534.html
Note: Depending on which text editor you're pasting into, you might have to add the italics to the site name.