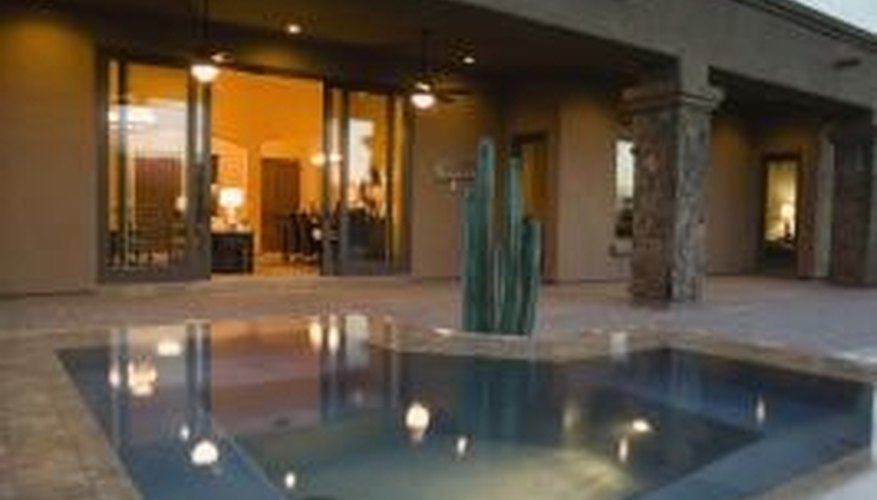 Sweep or mop the area around your jacuzzi tub and remove any leaves or bugs in the water. If your Jacuzzi is above ground, rub the top and sides of the hot tub with a wet rag to remove excess dirt or water spots.
Pour rose petals into the Jacuzzi so that they can float on top of the water, and set a bouquet of matching roses alongside the tub. If you are in the tub later on and wish to use the bubbles feature, remove the rose petals first.
Set an attractive serving platter at the edge of the Jacuzzi tub. If your tub is above ground, set up a fold-out stand right next to the edge and place the platter on the stand. Load the serving platter with visually pleasing finger foods that help encourage romantic feelings, such as fresh strawberries, pineapple chunks, cheeses and chocolates. Set a bottle of wine or sparkling cider next to the tray so that you can share some bubbly while soaking in the tub.
Dim the lights in the Jacuzzi area to make it look more mysterious and romantically enticing. If the light does not dim, replace the bulb with a tinted light bulb.
Things You Will Need

Broom
Mop
Rag
Rose petals with matching bouquet
Serving platter
Fold-out stand
Finger foods
Bottle of wine or sparkling cider
Tinted light bulb
View Singles Near You