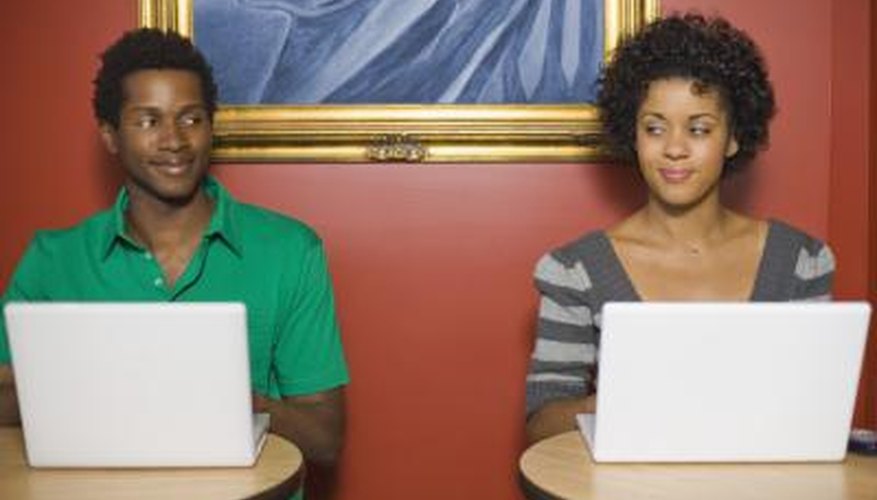 Be Honest
Both guys and girls tend to lie about their appearance online, namely height and weight, suggests a study of 80 online daters led by Cornell University professor Catalina Toma entitled "Separating Fact From Fiction," published in "Personality and Social Psychology Bulletin" in 2008. If this sounds like you, stop. Be honest about your appearance, your job and everything else. While you don't have to divulge your innermost secrets, staying away from lying will start the relationship on the right foot. But beware: don't divulge your address or other personal information that could be used in a less-than-ideal way. Remember, you can't always tell if the person on the other end is being honest about who he is or his intentions.
Seek Common Interests
Shared interests are often used as matching tools on dating websites. Start by focusing on things you already know about him. If you met on a website devoted to a love of bearded dragons, start out with a conversation about lizards and expand. If you didn't meet on a site like this, ask what he did that day or that week, and see if anything strikes your fancy. If he is less than forthcoming, ask what websites he likes online or check out his social media profile for ideas. When you find some areas of common ground, focus on those. Your mutual love of surfing and fried shrimp might even lead to an exciting beach date in the near future.
Ask Questions
To keep the conversation going, figure out what you want to know about him, and ask. If it makes you more comfortable, brainstorm beforehand and keep a list of conversation starters or a list of questions next to the computer to pull from if you run out of ideas. Try asking about his favorite book, music or food. Ask his opinion on current events, if he prefers quiet events to big parties, and if you're ambitious, whether he likes quantum physics, yoga or reality television. This will keep things moving along for even the least adept conversation starter.
Work Around Body Language
Since you will be flying blind without being able to see the person you're chatting with, you need to make up for a lack of body language with other communication. Use symbols such as smiley face emoticons or "LOL" to indicate that you are laughing. Instead of a grimace or a frown, you'll have to type out "ick" or some other phrase to indicate how you're feeling. Though it may not be a perfect system, writing out these feelings -- or faces -- can help you to communicate better overall.
View Singles Near You