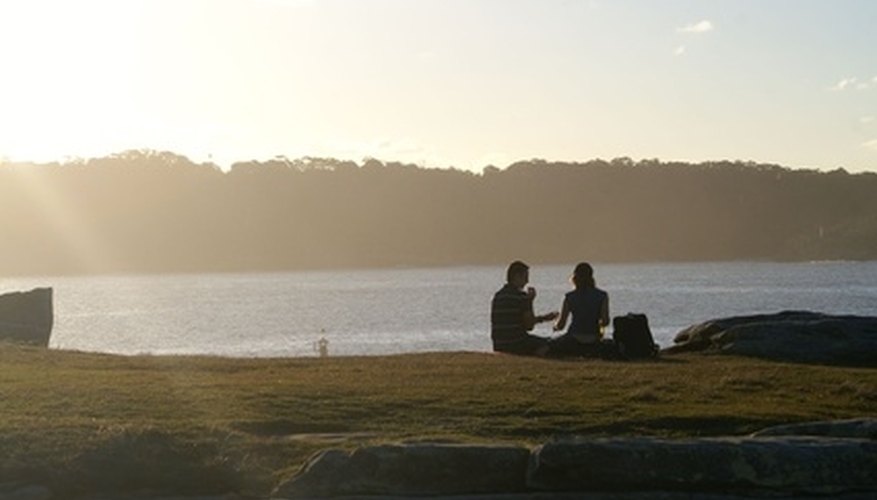 Dinner for Two
Invite your date to your place for a romantic dinner prepared by you. If you have roommates, make a deal with them to have the place to yourself for the evening. Keep the food simple and inexpensive so you aren't stressed before the date. Make a heart-shaped pizza from frozen bread dough and top it with pepperoni or your favorite ingredients. If you feel adventurous, spell out a message to your date with the toppings. Finish off the meal with a simple dessert, such as strawberries and cream or heart-shaped cupcakes.
Secluded Picnic
Instead of a picnic in the park, head out to a secluded and romantic spot. Plan a day hike nearby but take along all the makings for a romantic picnic lunch with you. Pack a bottle of wine and plastic wine glasses, or a sparkling cider if you don't drink. Hike the trail on your own before the date and locate the best spot to host your private picnic. Choose an area with a view that is far enough from the trail traffic to ensure you have a bit of privacy.
Find a Festival
College towns often play host to a variety of festivals throughout the year. If nothing is going on in your town, check out nearby towns to see what's on offer. Carnivals, cultural festivals and harvest festivals are just a few choices. These are inexpensive and they help both you and your sweetie get to know the area around your college better, especially if it's your first year at the school.
Open Mic Night
Look in your college paper for open mic nights around campus. Poetry nights are especially romantic, especially if you get on stage with a romantic poem you wrote just for your date. Most open mic nights don't have a cover charge, or they have a lower than normal cover since much of the entertainment is amateur. If both of you are into a certain genre of music or love comedy shows, find an open mic night that caters to these interests.
View Singles Near You