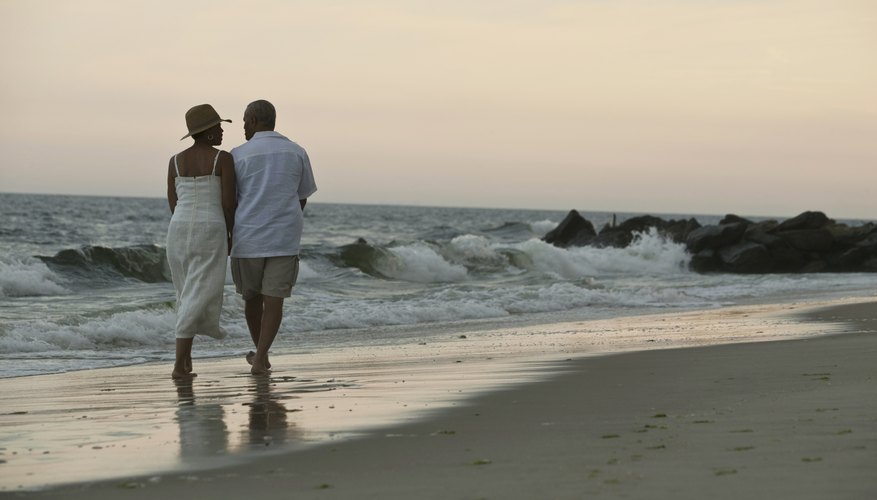 Skip Hotels
Book a night at a bed and breakfast instead of a hotel. Bed and breakfasts offer the right amount of coziness to make the days feel more romantic. Many bed and breakfasts are also located outside major cities, so you can enjoy a quiet atmosphere and a more private time. At a B&B, you might be able to arrange breakfast in bed or a midafternoon picnic.
Choose an Out-of-the-Way Destination
Stay away from popular destinations and busy touristic attractions. For example, instead of spending the weekend in Atlantic City, New Jersey, head to Cape May. This Jersey Shore town has lots of Victorian architecture, access to miles of beaches and hiking trails, and many historical buildings. It's a lot more romantic than the busy casinos and boardwalk of Atlantic City, and can be very affordable if you arrive in the fall or winter, the off season. Instead of a weekend in Hollywood, head to a small coastal or desert town in northern California. By avoiding major cities, you'll save money and get more privacy.
Plan Few Activities
A romantic weekend is about spending time together, not about engaging in nonstop activities. If you're spending the weekend in a small town, use the time to go for walks, have an ice cream, explore small antique shops or have a picnic at a local park. This will save you a lot of money, and also make the time you spend together more meaningful.
Check Cruise Discount Websites for Deals
While many think of a cruise as an expensive option, it's possible to take short cruises -- usually to the Caribbean or Mexico -- for under $200 per person. When you consider that the amount covers both transportation and accommodations, and sometimes meals, that price makes a good deal for a weekend away.
Resources
View Singles Near You