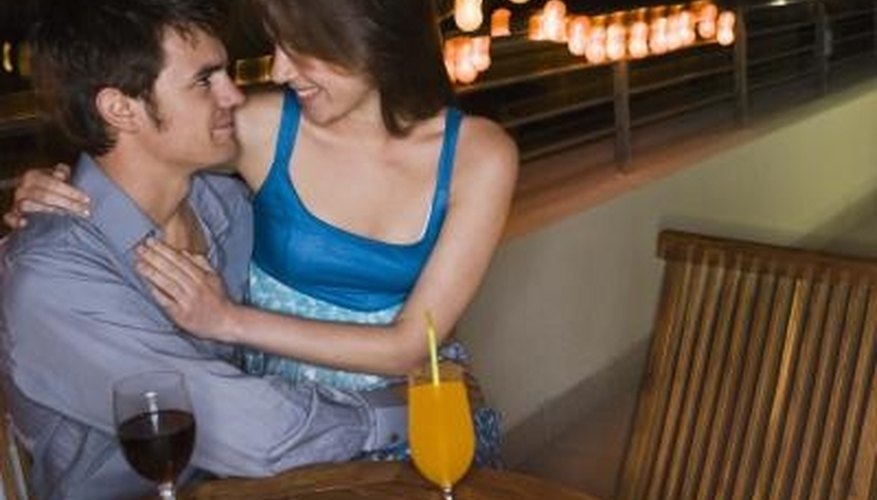 According to the tenets of the Christian faith, the believer's first obligation is to love God and to live to please Him. The potential to compromise your principles while dating exists on many levels. If you undertake dating without much thought, prayer, and counsel, you could make life-changing mistakes. If you approach it with the wrong attitude, you could hurt yourself emotionally and hinder your relationship with God as well. Dating for the Christian is not without its pitfalls.
Physical Closeness and Sexual Issues
In a dating relationship, the physical component can accelerate more quickly than you are able to handle it. Hand-holding may satisfy you for a short time, but as time progresses, so does the level of temptation to move onto greater levels of intimacy. You may go from holding hands to a peck on the cheek, followed by more sustained oral kissing. This, in turn, could lead to touching of the more intimate parts. From there, it could lead straight to the bedroom. As a Christian single, the Bible says to "flee fornication." (1 Corinthians 6:18)
Discontentment With Singleness
Dating can cause discontentment with God's gift of singleness, as pastor and writer Joshua Harris, author of the book "I Kissed Dating Goodbye," says. It can cause you as a believer in Christ to focus on what you do not yet have -- or never may get -- instead of on the blessings that you have been given. The Bible, the book that contains the rubric for Christian living, instructs disciples of Christ to be thankful in all situations. (I Thessalonians 5:18)
Deception
The Bible instructs believers not to be "unequally yoked together with unbelievers" in II Corinthians 6:14. As a consequence, a person who wants to date you may pretend she is interested in partaking in God-related activities with you, including praying and reading the Bible. However, it is possible to find out after your wedding day that she is more interested in attending the party on Saturday night and sleeping in on Sunday morning than going to church with you. To lower the chances of that happening, it is best to get to know the person you are interested in as a friend. The Christian Life Advisor suggests that you get to know the person as a platonic friend first. In a friendship, a person is more likely to show her true self to you, whereas a dating relationship can often be about masking the true character and personality to please the object of interest.
Isolation From Others
Retreating with your friend to your own relational silo can be dangerous. As the Christian Dating Service Blog advises, it's best to keep your dating relationship transparent, so that your other Christian friends, especially those who are more experienced, can see what is happening. Approach them for honest counsel. They may have far more insight than you regarding the character of your current love interest. The Bible says in Proverbs 11:14 that "in a multitude of counselors there is safety."
View Singles Near You
Resources
Cite this Article
Choose Citation Style
Koolbreeze, Angus. "Christian Dating Pitfalls." Dating Tips - Match.com, https://datingtips.match.com/christian-dating-pitfalls-7943245.html. Accessed 06 June 2020.
Koolbreeze, Angus. (n.d.). Christian Dating Pitfalls. Dating Tips - Match.com. Retrieved from https://datingtips.match.com/christian-dating-pitfalls-7943245.html
Koolbreeze, Angus. "Christian Dating Pitfalls" accessed June 06, 2020. https://datingtips.match.com/christian-dating-pitfalls-7943245.html
Note: Depending on which text editor you're pasting into, you might have to add the italics to the site name.