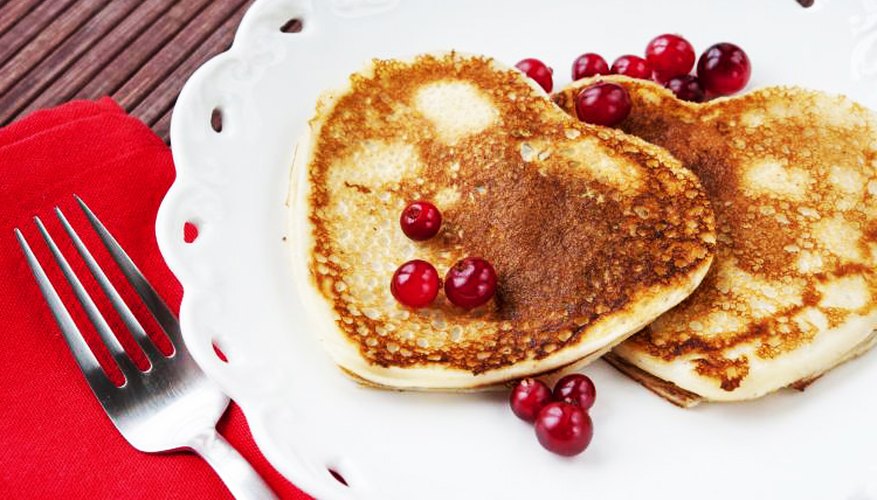 Hot Breakfast Options
The first step is to plan your romantic breakfast menu. If you have a hot breakfast in mind, try to balance sweet and savory options. Your choices range from the traditional -- pancakes, waffles, French toast, omelets, bacon -- to overlooked classics such as stuffed crepes, Dutch pancakes or a souffle. If you can get your hands on some heart-shaped waffle makers, griddle molds or cookie cutters, so much the better.
Cold Breakfast Choices
If you want to provide a meal prepared by hand but want to avoid cooking a la minute, offer a cold breakfast spread instead. It's just as romantic but you won't be stuck in the kitchen all morning. The key is to splurge a little -- a simple bowl of cereal just won't do here. Homemade granola plus Greek yogurt and fresh sliced fruit is one option; a slice of savory quiche or frittata is another. A spread of smoked salmon, sliced cucumbers and tomatoes, bagels or dark rye bread and cream cheese or other savory spread is yet another way to go.
Prepare Ahead
Once you've chosen your menu, do as much of the preparation as you can in advance. Slice the vegetables or prepare the fruit salad or compote a day ahead. Cook the quiche the night before and refrigerate it; bring it to room temperature in the morning. In some cases you can even make pancake or waffle batter ahead of time and store it overnight, saving you precious minutes when dawn arrives.
Choose Your Spot
Breakfast in bed is definitely romantic -- but it can also be awkward and messy. If you're willing to take the risk, take the time to arrange a tray and perhaps find a spot next to the bed such as a nightstand or portable table to serve from. You can also entice your loved one to the breakfast nook with the savory smells of your cooking; be sure to set your places in advance. Special glassware and linens and a centerpiece such as a bouquet of flowers would not be amiss here as well.
Don't Forget the Beverages
Whatever the menu and wherever you choose to serve it, make sure to have your partner's favorite morning libation on hand, whether that be tea, coffee, juice or something else.
View Singles Near You