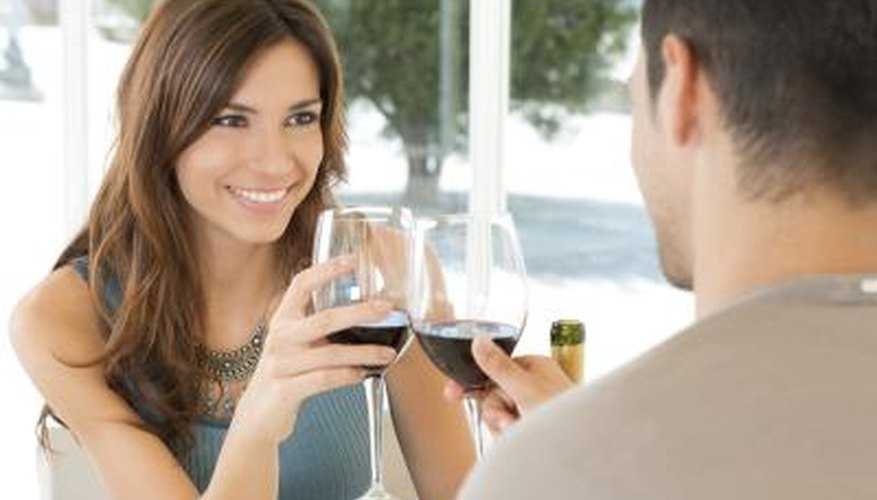 Step 1
Compliment her. Notice the outfit she is wearing or the fascinating way she describes what she does for a living. Women are looking for men who can tune in to their internal wishes and desires, and genuine compliments can help them to feel that way, explains clinical psychologist Frances Cohen Praver in the Psychology Today article "What Women Want." This is your chance to make her feel attractive and seen – take it!
Step 2
Ask for her number and suggest taking her to dinner a few nights later. This will give you a chance to further woo her and to get to know each other better. Make an effort to call her at least once before the date as well, just to let her know she is on your mind and that you couldn't wait to talk to her.
Step 3
Embrace your inner gentleman, suggests relationship coach Janet Ong Zimmerman in the Your Tango article "Dating Advice for Men: Ditch Yesterday's Rules & Find Real Love." Be courteous to her needs, open doors and dress to impress. Don't try to rush the physical aspects of the relationship. Instead, take the time to get to know who she truly is and what she is looking for in a partner.
Step 4
Surprise her with flowers. Produce a bouquet for your first date or send an arrangement to her office the next day. Be sure to include a card thanking her for the wonderful evening and expressing your desire to do it again soon.
Step 5
Pick up the tab, at least for the first few dates. Allowing her to pay, even just for half, may send the message that you aren't really interested and that you are also "emotionally cheap," explains psychiatrist Carole Lieberman in the Mint Life article "Who Should Pay on the First Date?" While it may seem antiquated to suggest that the man should always pay for the first date, the concept is deeply engrained in our society and bucking tradition here could make your date feel less interested as a result.
Step 6
Call when you say you are going to and arrive on time for dates. Proving your reliability from the beginning can help a woman to trust in what you say in the future.
View Singles Near You