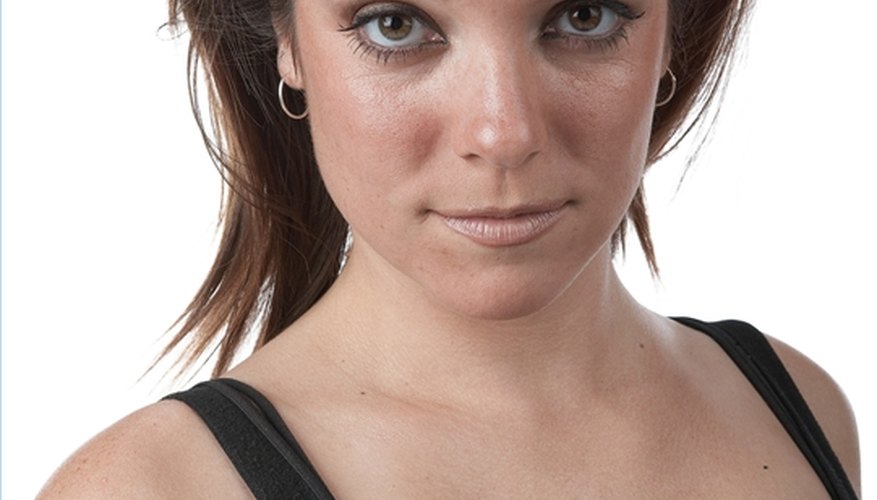 Brush neutral or skin-tone eye shadow across your entire eyelid. Covering the eyelid completely creates a base that can prevent eyeliner from smudging.
Curl your eyelashes to open up your eyes and create a more dynamic look. Use an eyelash curler at the root of your lashes and press gently for 5 to 10 seconds.
Apply eyeliner. Choose a dark, smoky color. Pull your eyelid taut from the outside corner. Using an eyeliner pencil or liquid eyeliner, trace the lid as close to the base of your eyelashes as possible. Use an upturned stroke when you reach the outer corner of the eye to create a catlike and flirtatious flare. Lightly line the lid along the bottom lash line as well, again pulling the skin taut.
Brush matching eye shadow over the eyeliner. Make the look extra flirty by choosing a matching eye shadow that includes sparkling or shimmering bits that catch the light.
Apply rich black mascara to your eyelashes. Apply a second coat immediately after the first, without allowing it to dry. Use a lash comb to separate lashes for a full look.
Perfect your flirty eyes with faux lashes to thicken and define your eyes. Bat your perfectly mascaraed lashes and draw attention to the fabulous make-up.
Things You Will Need

Dark eyeliner
Neutral eye shadow
Matching, dark eye shadow
Small eye-shadow brush
Black mascara
Eyelash curler
Faux eyelashes
View Singles Near You