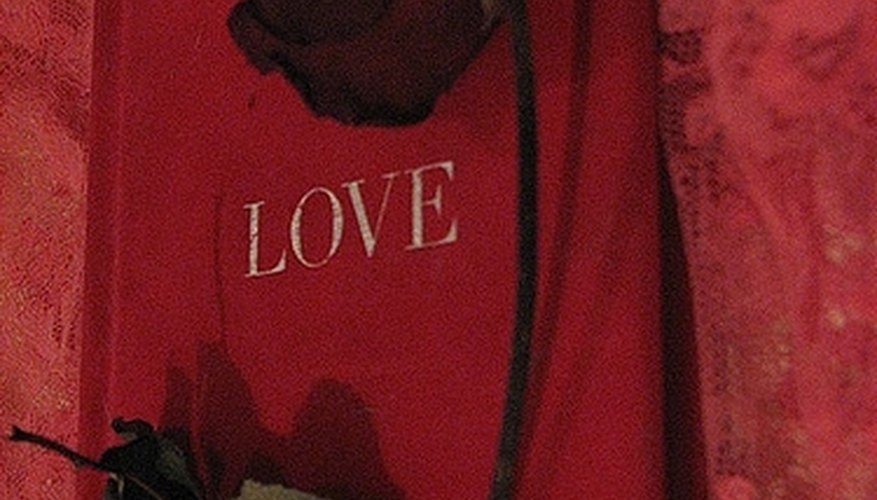 Opening up to love is one of the most rewarding and important things a person can do in a lifetime. A great way to focus energy and intent is to create a sacred space for love. A love altar is a wonderful space for manifesting desire, passion and adoration in your life.
Select a table or surface on which to place the altar. It should be pleasing to the eye, out of the reach of children and animals, and light enough to be moved. A good spot for the love altar is in the upper left corner of the room from the door, since this is the feng shui area for love and relationships.If desired, use a sage stick to smudge the tabletop and all items before making the altar. Imagine that the smoke is carrying away anxieties and fear about love, and that this altar is a fresh start.
Take a moment to meditate about love, and to center. Since this is a new, clean place to honor love, begin to build the altar with an open, joyous mind. Play soothing music to set the mood.
Spread the tablecloth, making sure that it's evenly placed and free of wrinkles or bumps.
Place pictures on the altar around the back. Make certain to use photos of admired couples, pink and red flowers, and things that bring up feelings of romance. Stay away from pictures of solitary people, rocks, running water, or things with sharp edges and corners.
Use the pen and paper to write out a list of goals for love. Compose them all in the present tense. For example, "I will be engaged by the end of next year" would become "I'm ready for an engagement now." Place this in the middle of the altar so that it's easily read.
Place the two plants on the altar near each other, promising to tend them faithfully. As the plants grow, so does the capacity to love. Plus, living things are good for energy flow. Use plants that have rounded or fuzzy leaves and colorful flowers.
Gather all paired items and position them in a pleasing manner around the altar. Paired items promote relationships, so put as many as desired. Online feng shui shops sell lovebird statues; other online stores carry heart sculptures and other romantic art. This is also a good time to add any stones that are conducive to loving energy, such as rose quartz or any other pink or red stone.
Next, add the two candles. Use red candles if more passion is desired, or pink if romance is the ultimate aim. Light these candles when you meditate in front of the altar.
Add any pictures of religious figures, saints or deities. If desired, ask them to bless this new altar and pray for their presence and wisdom during your search.
Last, burn a stick of incense and take a moment to meditate on this new altar. Burning incense regularly will act to purify the space, and will bring about the peaceful mind-set necessary to invite love into existence.
View Singles Near You
Things You Will Need

A small table or clear space
Pink or red fabric or tablecloth
Small, framed romantic pictures
Pen and paper
Two small, live matching plants
Items in pairs, such as lovebird statues
Two red or pink candles
Love, rose, jasmine, vanilla or incense
Tip
Try to add new things to the altar space as time goes on. If progress is made during the search for love, leave a small token of thanks. Good tokens are dollar bills (great for goddesses such as Oshun), cinnamon sticks and rose water in a dish.
Warnings
Write affirmations and goals in a positive, optimistic voice. Avoid the words can't, shouldn't, won't and don't. As tempting as it may be to set time limits, don't do so.

When choosing plants for the altar, avoid those with spear or arrow-like leaves. They have cutting energy in feng shui.

Don't leave lit candles unattended.
Cite this Article
Choose Citation Style
Starr, Gigi. "How to Create a Love Altar." Dating Tips - Match.com, https://datingtips.match.com/create-love-altar-4514682.html. Accessed 02 June 2020.
Starr, Gigi. (n.d.). How to Create a Love Altar. Dating Tips - Match.com. Retrieved from https://datingtips.match.com/create-love-altar-4514682.html
Starr, Gigi. "How to Create a Love Altar" accessed June 02, 2020. https://datingtips.match.com/create-love-altar-4514682.html
Note: Depending on which text editor you're pasting into, you might have to add the italics to the site name.