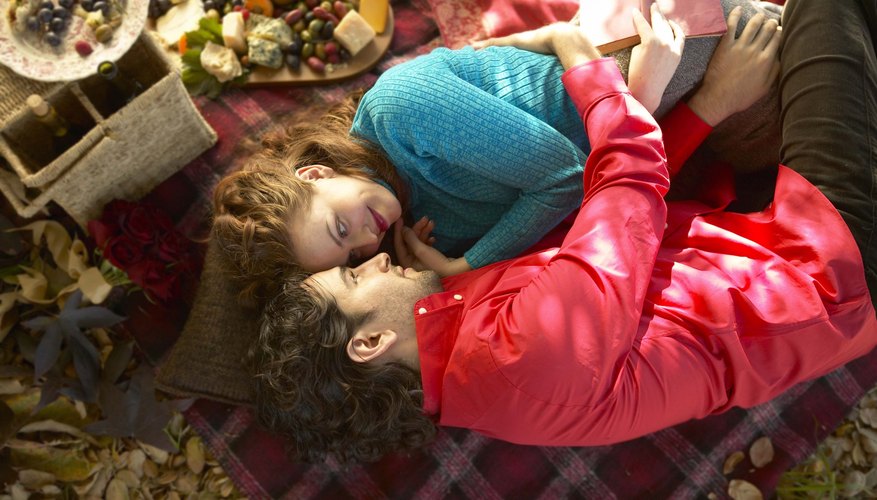 Go Back to your Roots
It can be fun to share places from your childhood and teenage years with your partner. Take a road trip to your respective hometowns, suggests TwoOfUs.org. Drive past your old homes and schools. Get out of the car and take a walk in the parks where you both played as children. Swing on the swings and have fun on the seesaw. Then go to your favorite hometown coffee shop or diner for a bite to eat. Sharing your past is a great way to bond with your partner.
Give It a Go
You and your partner may not share all the same hobbies or interests, but on your dating anniversary, it might be fun to enter each other's worlds. For example, if your partner is a keen tennis player, you could join him on court for a lesson. Next, he could attend your art class with you. You might even end up discovering that you share a passion for something. Moreover, sharing time and activities can keep a relationship thriving, according to the Psychology Today article, "Six Tips to Keep Long-Term Relationships Exciting."
Have an Adventure
For a really memorable dating anniversary, organize something that you've both always wanted to do. If you're into active pursuits, maybe you'd like to try skydiving, bungee jumping or horseback riding. Alternatively, perhaps you'd both like to take a cooking lesson from a professional chef, or go for a helicopter ride. Sharing a brand new experience with your partner will make the activity extra special.
Commit your Love to Paper
A shared gift that you will both treasure forever is a creative way to mark a first dating anniversary. Buy a journal and together, make a list all the things for which you are most grateful. Focus on the positives aspects of your relationship and your respective lives. Keep the journal in a safe place and do the same on each subsequent dating anniversary.
Gifts from the Heart
You can always purchase gifts for each other. However, set yourselves a limit when it comes to your gift budget like $10 or $20. This will encourage you to be really creative. Alternatively, agree that your gifts must be handmade. You could bake your partner a cake, write him a love letter, compile a digital playlist of his favorite songs, or make a video clip of yourself telling your partner all the things you love about him.
View Singles Near You