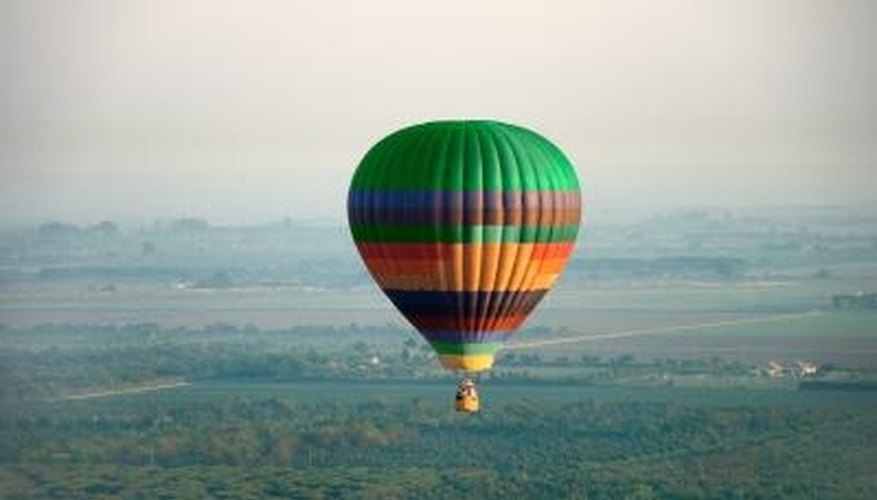 Romance is in the Air
Surprise your sweetheart with a trip in a hot air balloon. Many cities and states host hot-air balloon festivals and/or are home to hot-air balloon companies. Most hot-air balloon rides start off either pre-dawn or pre-sunset and may come with pre-flight, in-flight or after-flight light meals and beverages. Dress comfortably and in layers. The coolest part of the trip is actually when you're closer to the ground. As the balloon flies up, the heat from the burners will keep you and your love nice and warm.
Close to her Heart
Diamonds may be a girl's best friend; however, there are other less-expensive, creative jewelry options to make her heart melt. Purchase a heart-shaped locket and insert your and her picture in it. When it's time to present the gift, have some fun with it and place the gift box into a slightly larger box, then place that box in a slightly larger box and so on until it appears to be a pretty big gift. Imagine the look of surprise, not to mention the bouts of laughter, as she goes through each box one by one, furthering the mystery of the gift. Once she reaches the locket, she may just be at a loss for words.
Travel Without Leaving Home
Experience Paris -- or Rome, or Sicily or whatever city you and your loved one wishes to visit -- while never leaving your home. Visit an arts and crafts shop, like Michaels, and find photographs of popular landmarks associated with your city du jour, such as the Eiffel Tower. Use the photos as well as other items to decorate your place as if you were in that particular location. Look through a cookbook and cook a dinner that is associated with that area. Recruit a friend to play the role of waiter and make him dress and act the part, goofy accent and all.
Write Your Feelings Down
Emails and text messages have replaced the love letter. The next time you want to share your feelings with your honey, think outside the box. Stop by your local toy store and pick up a carton of sidewalk chalk. On your driveway, write down how you feel about your sweetie, how much you love her, how you can't wait to spend the future together or even draw cute little stick figures that, sort of, resemble the two of you. When your sweetie comes home, direct her to park on the street then show her your new version of the love letter.
View Singles Near You