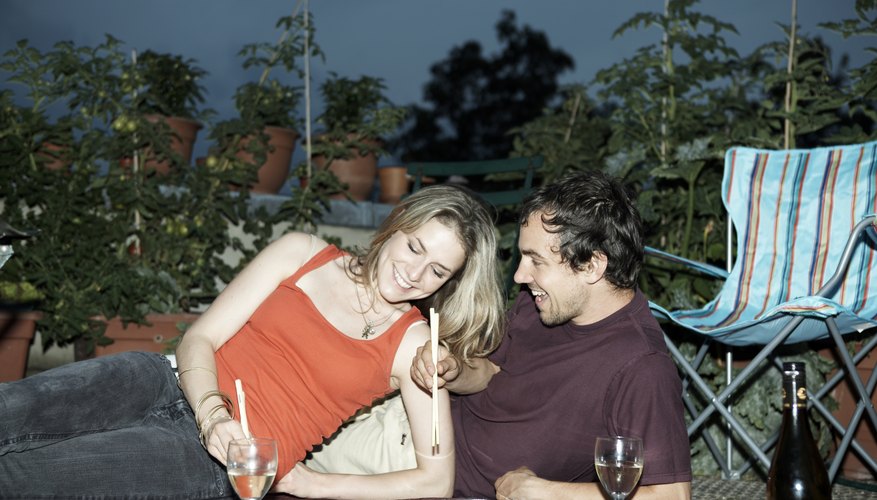 Step 1
Write a "top five" list of things that your date loves to do at home. Look for complementary activities outside the home that match these interests. For example, if your homebody enjoys a particular show on TV, keep an eye out for a local appearance by one of the show's stars. After spending so much time indoors, your homebody might just need a reason to leave the house. Favorite music can work, too. Look for concert tickets to see your date's favorite band or find details of a must-see local gig featuring his favorite music genre.
Step 2
Agree on some rules around invitations, so your date has an alternative to simply turning them down to stay indoors. If she agrees to attend a social function with you, decide on how long you will stay and the time at which you will leave. Reassure her that the two of you will stay together at the event, so there will be no awkward times when she is left to make conversation alone with a stranger. This can help your date overcome the feelings of shyness that often hold people back from enjoying social situations.
Step 3
Make new friends together through activities, such as joining a club, a gym or a sports team. Sometimes homebodies hold back in social situations because they do not feel that they fit into the other partner's already-established group of friends, explains Cosmopolitan Magazine. This is especially true when a couple has just started dating.
Step 4
Choose informal venues for evenings out to lower your homebody's stress levels. Opt for the local diner, where you can relax, rather than the classy restaurant where everyone is uptight and over-dressed.
Step 5
Share some time -- or even chores -- together around the house. You might come to enjoy the things that your homebody appreciates about being at home, such as cooking, gardening or decorating. This will help you to understand each other better and give your date the feeling that you are both "in this together." Taking the time to get to know your date and finding common ground can help you both relax and enjoy each others' company.
Step 6
Create new at-home activities that you both can enjoy so your date can opt for evenings at home, too. You can play billiards in the recreation room, create silly videos together with a camcorder or even let your childish side loose and build an indoor fort.
Tip
Although you may be able to modify the behavior of your date, it is unlikely that you will change those homebody ways completely. If you don't feel comfortable with that thought, you might need to consider dating someone who enjoys the social scene as much as you do.
View Singles Near You