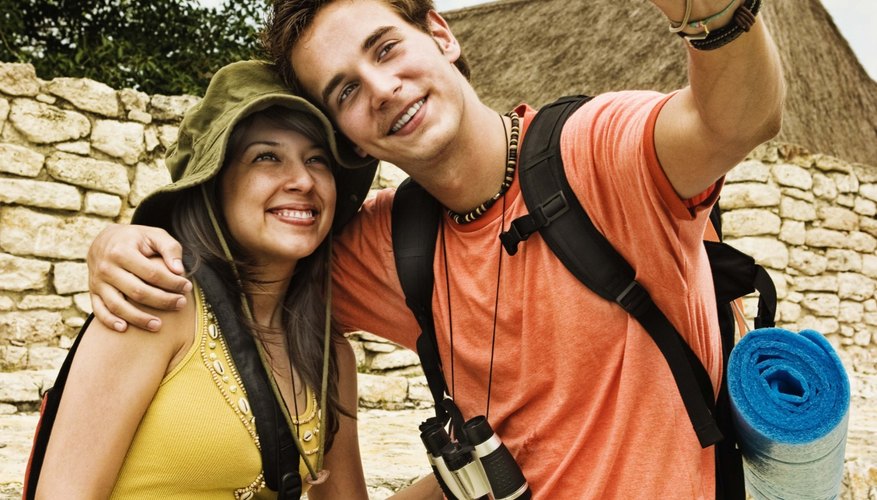 Sports Date
Sports-themed dates let you spend time together doing something active, yet they don't have to be strenuous or require athletic abilities. Hit the golf course for a round of golf, even if it's mini golf or hitting balls at the driving range. Other sporting activities to try out on a date include bowling, go-karts, ice skating and roller skating. If you are a more athletic couple, try tennis, rock climbing or racquetball.
Checking Out Sites
Almost every city has tourist attractions nearby. For your next date, head to a local museum, national monument, art gallery, seaport or anywhere tourists would go in your city. Act like tourists for the afternoon, taking in the sights and enjoying the local culture. If available, hop on a tour bus and take a guided tour of the city. Zoos, public gardens, vineyards and historical sites are other places for sightseeing.
Take a Class
Taking a class together is a non-traditional date idea. Sign up for a class to improve upon an interest you share together, or explore something new together by taking a class in something neither of you have any experience. If you're newly dating, try a one-night workshop to avoid lengthy commitments, but If dating for a while, enroll in classes that run for a few weeks. Classes that couples can take together include cooking, massage, foreign language and dance lessons.
Exploring the Outdoors
If you love to spend time outside, grab your roller blades or your bikes and head to the local park. Take a hike, or go for a long walk on pre-designated hiking or walking trails. For a more relaxing outdoor date, grab a blanket and some board games, or a deck of cards, and find a quiet outdoor location to lay out a blanket and play games. Plan the date for the early evening so that you can watch the sunset or attend a free concert in the park and dance under the stars.
Late Night Date
Enjoy an evening on the town that doesn't start until after dinner. For example, you can take in a live show or a concert or visit a comedy club. Nightclubs and dance clubs are other venues that typically peak after dinner time. You can try you luck at a casino or take a midnight stroll along a nearby beach. Bring along a music player and CDs and now you have your own private dance club on the sand.
View Singles Near You