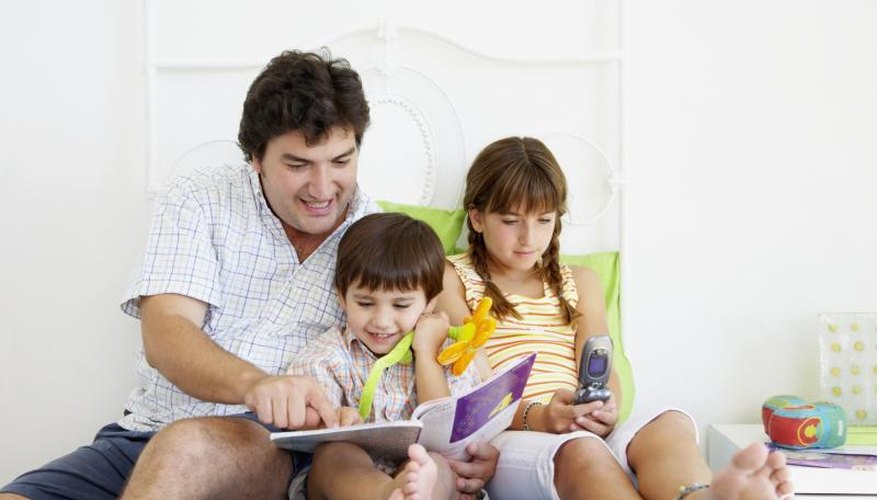 Dating a man with kids differs a bit from dating a childless guy as the guy's ex is usually out of the picture -- not dropping off kids every weekend. Not to mention the children's museum doesn't often make it onto the date night hot spot list for guys without kids, and spontaneity is almost certainly a childless concept. A relationship with a dad can be a bit complicated, but if you take it slow and learn the family's dynamics, you have the opportunity for a rewarding relationship.
Secretive Beginnings
Kids can form attachments quickly, which means the man you're dating has to tread carefully, advises the American Academy of Pediatrics on their website Healthychildren.org. His children require stability and bringing home a different woman each week to meet the kids can drastically upset that calm. In the early weeks or months of your relationship, be prepared for a somewhat undercover relationship. As it develops, the two of you can discuss whether or not you're on the same page, and then you'll have an opportunity to meet the kids, advises the Kidshealth article "How Can I Help My Child Deal With My Dating After Divorce?" However, you should consider discussing tough issues before that happens, such as the possibility of more children in the future. If you don't have any children yet, and his diapering days are done, this may be a deal breaker for the relationship. Get it out in the open now, before moving to the next step.
Meet and Greet
When you and your partner have decided it's time for you to meet the kids, take it slowly. Let your boyfriend introduce you as a friend and build toward sharing your romantic involvement. And once the introductions have been made, get ready for some family-friendly activities. If you've never visited an indoor playground before or had a slumber party with 8-year-old girls, you'll have plenty of opportunity for some childish fun now. However, you might not be the kids' new best friend overnight, says Healthychildren.org in "Dating After Divorce." How and when a child lets down his guard is a unique transition, so be prepared for some resistance and try not to take it as personal rejection.
Kids First
While it's normal to want to be the top priority to your partner, when you're dating a man with children you'll have to accept that his kids come first -- which is a good thing. You don't want to commit to a man who will brush off plans with his children to sneak out for a date with you. Attending his youngster's little league championship will outweigh an afternoon at the movies, and tending to sore tummies will cancel out a romantic weekend trip at a moment's notice. Be flexible and maintain some independence so you can take care of yourself during the parent-child-only times.
Mama Limits
There is a thin line between being involved in the lives of your partner's children and assuming a motherly role and overstepping your boundaries. It might be tempting to create a tight-knit family unit, but it can be damaging to children psychologically when both biological parents are involved in their lives, warns psychologist Ruwa Sabbagh in "5 Things to Consider Before Dating Someone Who Has Kids" in Canadian Living. You can play an important role, being involved and helping to guide the children's lives, but stay away from wanting to replace their mother. Support your partner in his parenting decisions and avoid assuming the disciplinarian role in the household. If your boyfriend and his ex are co-parenting the children, consider whether you'll be comfortable with your boyfriend's regular involvement and whether you're OK having involvement with the ex, too.
View Singles Near You
Cite this Article
Choose Citation Style
Faith, Rosenya. "How to Date a Man With Kids." Dating Tips - Match.com, https://datingtips.match.com/date-man-kids-2247029.html. Accessed 25 May 2020.
Faith, Rosenya. (n.d.). How to Date a Man With Kids. Dating Tips - Match.com. Retrieved from https://datingtips.match.com/date-man-kids-2247029.html
Faith, Rosenya. "How to Date a Man With Kids" accessed May 25, 2020. https://datingtips.match.com/date-man-kids-2247029.html
Note: Depending on which text editor you're pasting into, you might have to add the italics to the site name.