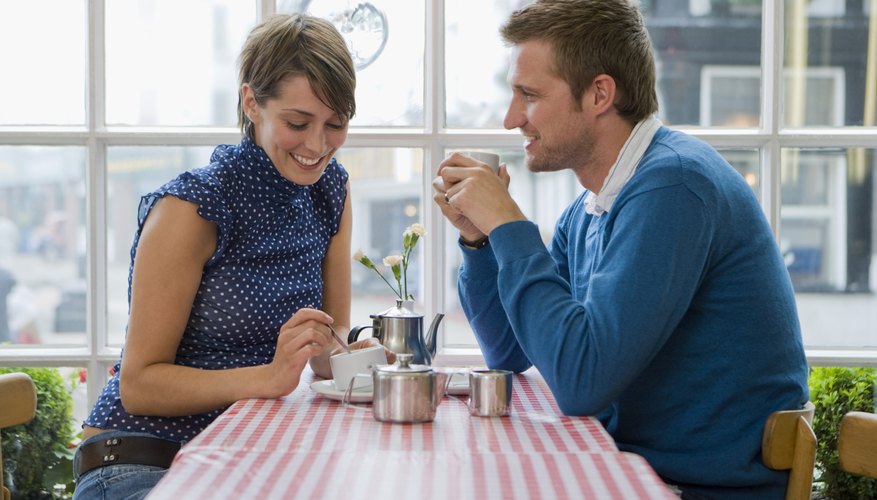 The First Date
Don't try to be someone you're not. There is nothing more attractive than being yourself, says Dr. Judy Kuriansky, a clinical psychologist and author of "Dr. Judy's Dating Tips for Men" on the Fox News website. Keep expectations realistic. This will help you relax. Be conscious of your attire. If you are going to a picnic or hiking, casual clothes are fine, while dress clothes are appropriate for a musical or nice dinner. Meet at a location where you can chat, such as a coffee shop or a park. Arrive early and shut your phone off or put it on silent mode. Your date should have your full attention.
Listen Carefully
It can be easy to get distracted. You might overhear a conversation or start thinking about what you want to say. Active listening helps to establish rapport, trust and consideration, says John M. Grohol, a psychologist and author of "Become a Better Listener: Active Listening," on the PsychCentral website. Show your date you are listening by occasionally paraphrasing and summarizing what she says. For example, you might say, "So you seem very excited about that prospect," or "So you think you'd enjoy traveling the world." Reflect on what your date is saying and provide feedback when appropriate.
Get to Know Her
Ask your date where she grew up, how many siblings she has and what she enjoys doing. A disinterested man is a turnoff for a woman, says Seth Meyers, a clinical psychologist and author of "Dating Anxiety: Tips, Secrets, How to Enjoy, Best Strategies" on the Psychology Today website. Express interest in what she is saying. Look her in the eyes, lean forward and smile. Tell your date about yourself -- but don't share anything too personal. You don't want to scare her off on the first date. To avoid saying something you will regret, take time to think before you respond to a difficult question.
The Good Night
The end of a date can be awkward. If it is a first date, you might tell her you enjoyed her company and give her a hug. If you have chemistry, a kiss goodbye might be appropriate.If you like her and want to see her again, tell her. Don't tell her you will call if you have no intention of calling. Be honest and don't play games. Don't get discouraged if you didn't hit it off with your date. Keep dating and have fun with it.
View Singles Near You