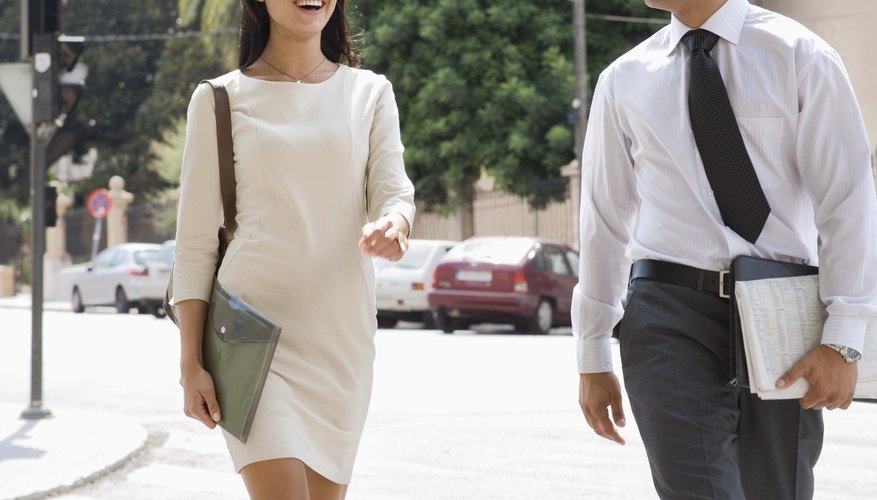 Dating on the Job
While there are numerous reasons to discourage dating in the workplace, it stands to reason that you may also find someone with a similar educational background, interests and values at your office. Bill and Melinda Gates, Barack and Michelle Obama and even Brad Pitt and Angelina Jolie are just some examples of famous romantic partners who met on the job. A 2011 survey conducted by Vault.com suggested that more than half of the respondents dated a coworker within the past year, while a 2012 Valentine's Day survey conducted by CareerBuilder.com reports that nearly one-third of office romances end in marriage. Despite these impressive numbers, you should take care when dating on the job. In her article "5 Rules of Thumb to Keep in Mind Before Pursuing an Office Romance," Deborah Sweeny of "Forbes Magazine" suggests avoiding romances with your supervisor, making sure to keep the workplace professional by putting work before your relationship in the office and avoiding posting too much on Facebook. Just remember, if things do go south, you will still have to work with your ex.
Joining a Professional Organization
If the thought of dating in the office has you worried, but the idea of dating someone with similar educational and work interests has you intrigued, you may want to consider joining a young professional's group in your area. Many major metropolitan areas have groups for young professionals that may advertise in the local paper, through word of mouth or through social media. Like sororities and student organizations, professional organizations often host numerous social outings and at the very least can provide you with the opportunity to network with other professionals in your area.
Let's Get Physical
Co-ed sports teams can provide an excellent outlet for you to work off a hard day at the office while also giving you the opportunity to interact with other young, active individuals. Even if you are not particularly athletic, games such as dodge ball and kick ball are easy to learn and may attract the attention of athletic singles in your area. Unlike trying to meet someone at the gym, which may involve awkward attempts to start a conversation, organized sports give you an excuse to interact with those who are eligible both during and after the game.
Let's Get Digital
Sure, online dating has been viewed with mixed opinions since its inception, but according to a PewInternet study published in October 2013 in the article "Online Dating and Relationships," Internet dating is on the rise. According to this study, 11 percent of Americans reported trying online dating in 2012, as opposed to only three percent reporting doing so in 2008. Furthermore, online dating was reported to be commonplace for Americans in their early 20s through mid 40s. Whether you're tired of trying to meet people via the bar scene or you don't think that your new work schedule can accommodate joining a sports league or young professionals organization, online dating may give you the opportunity to find other like-minded individuals who are also looking for love. Search tools may also allow you to weed out anyone who does not meet your dating criteria, including age, height, educational level and even yearly earnings.
View Singles Near You