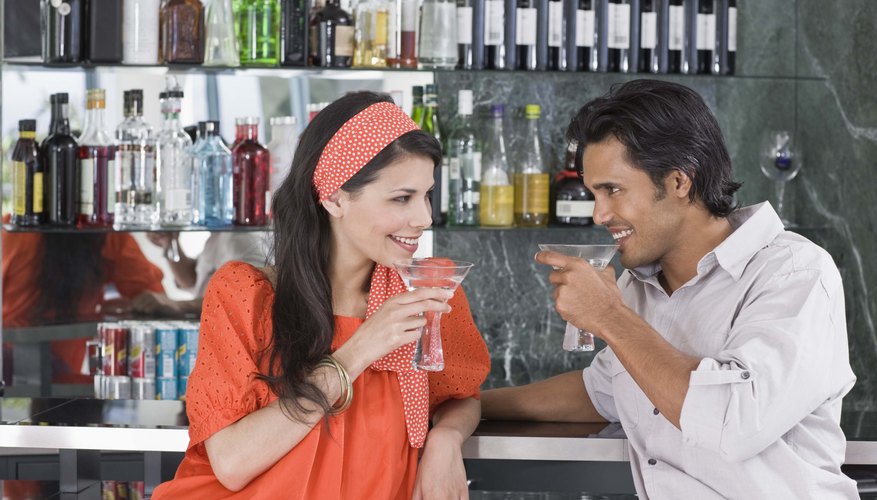 Navigating the dating world can be complex, states Rick Nauert, Ph.D., in his "Psych Central" article "Men Clueless of Dating Etiquette." People do not conform to socially imposed gender roles to the extent they have in the past, for instance, and social media has greatly expanded the horizons for those searching for romance. Some more traditional standards of acceptable dating etiquette remain relevant, while many modern practices can be considered.
Assertive Communication
Be open and honest. Lying to impress your date, such as claiming to have met her favorite athlete, is inappropriate. If you are faced with a topic of conversation you'd rather not discuss, such as your dysfunctional family of origin, tell her that. You can offer opinions and set boundaries without being impolite. You might say, "I'm uncomfortable talking about this right now. It is a painful subject for me," or, "Maybe we can approach it some other time. Let's enjoy ourselves." Maintain eye contact as well.
Body Language
Pay attention to your date's subtle and non-verbal cues. Notice if she maintains a physical distance, or if she touches your arm when talking. She may blink frequently, which, according to Caroline Tiger in her book "How to Behave - Dating and Sex: A Guide to Modern Manners for the Socially Challenged," is a "natural nervous response that indicates an attraction." Conversely, she may habitually check the time, yawn, or engage in some activity on her cell phone. Maintaining this awareness can help inform your next step -- you may feel confident that she'd be interested in another date with you or pretty certain she'd prefer to wrap up the evening.
Ending a Date
Carry enough money to pay all expenses. Based on what you've learned about your date throughout your time with her, you may have a sense of her expectations regarding the bill. Respect her wishes to contribute monetarily if that is her preference; however, Tiger states that being prepared completely will allow you to avoid potential awkwardness. You should also follow her lead upon departure. If she seems reserved, end the date with a smile and a handshake. If you both have been enjoying flirtatious banter, you may depart with a hug and a kiss. If you don't intend to see her again, don't lead her to believe otherwise. You might say, "It was very nice to spend time with you this evening. Take care." If you say that you will call her, be sure to follow through.
Sexual Expectation & Consent
Respect your date's boundaries. If she indicates in any way that a certain activity, behavior or conversation is uncomfortable for her, suggest an alternative. Avoid pressuring her via pleading, coercion or manipulation. Without jeopardizing your integrity, treat her kindly -- even if she is impolite or if you don't intend to see her again. Remember that no extent of chivalry or generosity on your part warrants an expectation of sex or otherwise intimate contact.
View Singles Near You
Cite this Article
Choose Citation Style
Avery-Stoss, Jill. "Dating Etiquette for Guys." Dating Tips - Match.com, https://datingtips.match.com/dating-etiquette-guys-7086.html. 14 July 2016.
Avery-Stoss, Jill. (2016, July 14). Dating Etiquette for Guys. Dating Tips - Match.com. Retrieved from https://datingtips.match.com/dating-etiquette-guys-7086.html
Avery-Stoss, Jill. "Dating Etiquette for Guys" last modified July 14, 2016. https://datingtips.match.com/dating-etiquette-guys-7086.html
Note: Depending on which text editor you're pasting into, you might have to add the italics to the site name.