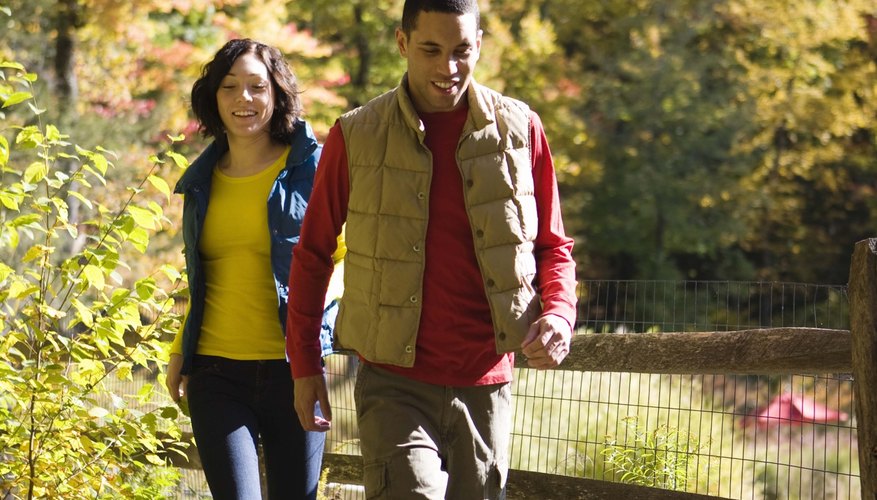 Nature Outings
It's a good idea to ask your date about his particular interests before planning any outing. If your date enjoys nature, then plan a date that involves hiking a trail or camping. Invite him to swim in a local lake, followed by a lovely picnic afterward. Use this time to get to know one another and strengthen your bond. If the date is going well, cap off the evening by watching the sunset from a remarkable viewpoint.
Sports Activities
Invite your date to a local park and engage her in a game of football or throw a Frisbee with her. If she's never played tennis before, grab a couple of your racquets and be gentle with her on the court. A pleasant bike ride through the city will give the two of you some quality time together. Whatever you decide to plan, avoid being too competitive with your date, as this may be a turnoff.
Cultural Activities
Museums and cultural arts centers often offer free admission to local events. Treat your date to an low- or no-cost play or exhibit. As you discuss the show, you will have a chance to exchange much personal information. Again, it may be a good idea to check with your date to see what interests him so you can tailor the outing to suit his preferences.
Dinner and a Movie: Home Edition
If you want to show off your culinary skills, or just prefer an intimate setting, then dinner and a movie in the comfort of your own home is a viable option. Plan a meal that includes some of your date's favorites. To keep the energy of the date light and carefree, select a comedy to watch. Be sure that the timing in your relationship is right for a home dinner date, recommends Alexia Elejalde-Ruiz in the Chicago Tribune, to ensure that your date is comfortable being alone with you.
View Singles Near You