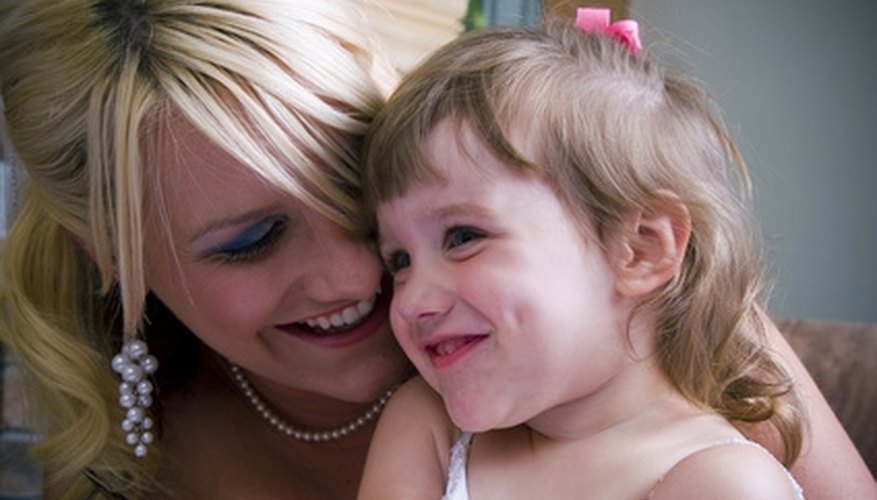 Dating a single mother represents a departure from the normal dating atmosphere and rules. Because of the presence of children as well as their need and right to care, attention and consideration, you may find that you have a little extra work to do when pursuing a single mom. Although your dating life may not be as carefree as that of two single people, seeing someone with kids can still be rewarding. Being aware of the unique circumstance can go a long way toward making things easier.
The Kids Will Come First
Expect any single mother worth her salt to put the care and concerns of her children first. Many women are called on to play the role of both mother and father, and you can expect that her children's needs, whatever they may be, will be paramount to her. Being jealous of her time will likely be counterproductive.
Give Her Space
Many single mothers are reluctant to introduce their children to a man until they are certain that he will be sticking around for awhile. Be respectful of her need to not allow her kids to bond with someone who may not actually play any long-term role in their lives. If this is frustrating, try to remember that what she is demonstrating is loyalty to her kids and a desire to protect them from needless harm. These are positive character traits, even if it takes you longer to progress in the relationship than you normally might. If and when you do meet her children, make sure that you have discussed with her what their needs might be as well as how to approach them. She may not be comfortable with public displays of affection or overnight stays until you are firmly ensconced as a significant other in her children's eyes. Communicate about what is appropriate at what times.
Be Flexible
When children are involved, it is difficult to always adhere to a rigid schedule or to assume that things won't go wrong. There will be times when you are having fun and she will need to get home to drive the babysitter home. A child might come down with the flu and derail date night. As a parent, she will be expected to roll with these kinds of punches. If you choose to date a single mother, some of that will be expected of you as well.
Understand Her History
Very few single mothers have not been through some kind of turmoil. Know her history, so you know how to proceed. For instance, a woman who has endured betrayal or abuse may need a slow and steady approach, as opposed to one who found that she was simply not compatible with her ex. Recognize that her ex and the father of her children is likely to be in and out of her life. That in itself can bring stress to a good relationship. The key is good communication on both sides and a pact to put aside any jealousy.
Offer Gestures Frequently
One of the hardest things about being a single mom is the lack of time to do anything for yourself, the exhaustion in the evenings after wrestling children to bed. Offering frequent small gestures speaks pure romance to the tired, overworked single mother who has to spend so much time caring for others and gives her own needs the back burner. Drop by unexpectedly to give her a back or foot massage after a rough day. Buy her that necklace that she has been eyeing, but you know she doesn't have the budget for. Distract the kids for a few hours so she can sit down uninterrupted and catch up with a friend online or go grocery shopping on her own. These kinds of things are the candy and flowers to a single mother (not that those go over badly, either). Give her moments where she is allowed to be taken care of. Speak her language in terms of what would help her propel the relationship forward.
View Singles Near You
References
Cite this Article
Choose Citation Style
Wren, C.K.. "Dating a Single Mother Tips." Dating Tips - Match.com, https://datingtips.match.com/dating-single-mother-tips-7476088.html. Accessed 31 May 2020.
Wren, C.K.. (n.d.). Dating a Single Mother Tips. Dating Tips - Match.com. Retrieved from https://datingtips.match.com/dating-single-mother-tips-7476088.html
Wren, C.K.. "Dating a Single Mother Tips" accessed May 31, 2020. https://datingtips.match.com/dating-single-mother-tips-7476088.html
Note: Depending on which text editor you're pasting into, you might have to add the italics to the site name.