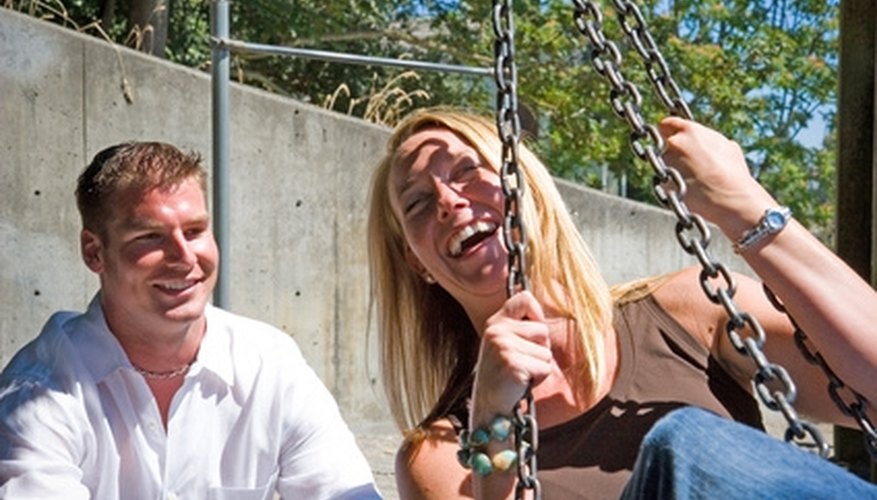 Come Prepared
Don't walk into your date "blind.' Take time to plan your first date activities and prepare some first-date topics to discuss. You don't want to follow a script, but it's a good idea to have a few interesting things to talk about in case there's a lull in the conversation. Focus on asking your date questions that are interesting but not too probing. For example, if he's a school teacher, ask him to recall a recent funny moment he experienced with his students in the classroom. This type of simple ice breaker should keep the conversation moving.
Offer a Compliment
Sincere flattery can simultaneously break the ice and flatter your date. However, to establish a genuine connection with your date go beyond the "you're beautiful" or "you look nice" compliments. Maybe her outfit really accentuates her eyes, or you find her laugh infectious. An honest compliment that's not too over-the-top about something specific, can flatter your date and put her at ease. This is likely to make her feel more comfortable with you.
Make Your Nerves Endearing
If you're visibly nervous for your first date, then embrace that feeling. The most awkward thing you can do is try and downplay the fact that you are visibly nervous. If your hands won't stop shaking, make a joke about it. If you feel anxious and can't calm yourself down, admit to your date that first dates always make you nervous. Chances are your date is also nervous. Your honesty about it will be comforting. Together, you can laugh off your nervousness. This will break the ice.
Find a Common Interest
Remember that you are on this date for a reason -- either you clicked when you first met, friends set you up, or perhaps you flirted with each other online. Find common interests to guide your conversation and look ahead to future encounters. Do a little research to find out something about your date before you get together. Ask friends about the activities she enjoys, or the sports teams he likes. If you share a similar interest, then talk about it. Don't fake your interest, though -- only connect through common interests if you both genuinely have.
View Singles Near You