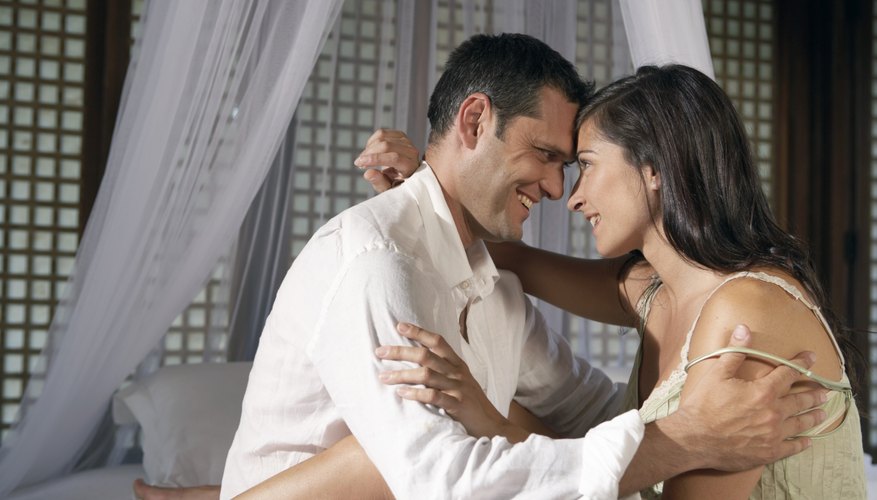 Step 1
Paint the walls with a soft colour or use wallpaper that establishes your romantic fantasy theme. Cover the walls with luxurious-feeling fabric, such as satin or velvet, if changing the wall colour isn't enough for your theme. Cream, ivory, taupe and golden-yellows are warm colours that work with a variety of romantic themes in the bedroom.
Step 2
Position your bed in the most prominent place in the bedroom. Large, ornate headboards, four-poster beds or beds with canopies work with many fantasy themes. Add nightstands and a dresser or chest. Keep electronics hidden in an armoire. Complete the room with a chair, ottoman or love seat that plays into your theme, such as a zebra print chair for a wild jungle theme.
Step 3
Include luxury linens that feel good against your skin, such as satin or high thread-count cotton sheets. Overstuffed comforters or soft blankets will keep you warm and comfortable. Choose colours that go with your theme. Lacy, floral-covered designs work best in a Victorian-themed bedroom. Sophisticated, solid-coloured bedding in jewel tones work best for a Moroccan-themed bedroom.
Step 4
Hang window coverings that complement your bedding. Sheer white curtains work with a tropical beach theme, just as lacy curtains in black or jewel tones work with a French boudoir.
Step 5
Frame posters or pictures to hang above the bed or opposite the bed. Romantic or sexy images or sculptures should fit into your theme. For example, a silhouette of a couple on the beach at sunset would complement a tropical beach theme. Mirrors and wall sconces are other options that work with most fantasy themes.
Step 6
Accessorise the room with small details that pull it all together. Spread out a multitude of candles and silk rose petals on the dresser, put fresh flowers on the nightstands or keep a tray with wine glasses and an ice bucket on a bench at the foot of your bed. Twist sheer tulle and twinkling lights around the posts or canopy of the bed to add a touch of shimmering light.
Things You Will Need

Paint/wallpaper/fabric
Furniture
Linens
Window treatments
Wall decor
Accessories
View Singles Near You