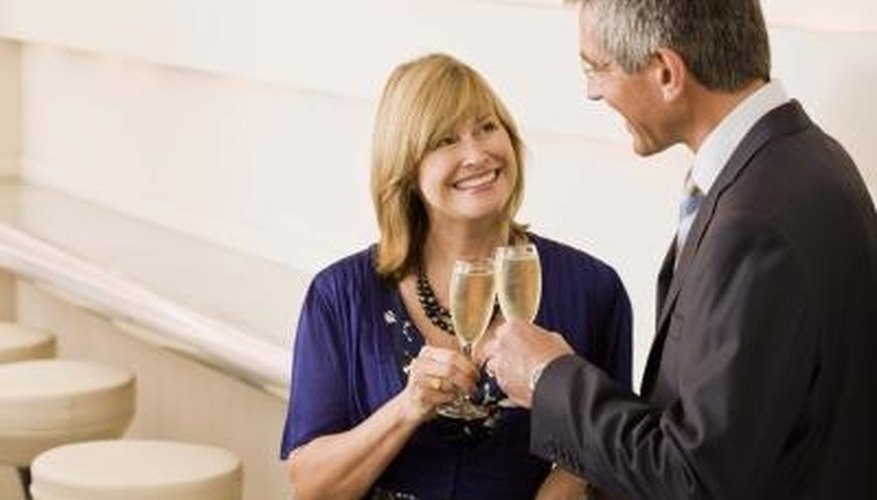 Meeting People
It is difficult for middle-aged men and women to meet new people. Many individuals maintain the same daily routines of going to work, running errands and taking care of kids. If you don't meet prospective dates at work -- or while picking up croutons at the grocery store -- you must think outside the box and come up with new ideas. Online dating services are an effective way to be matched with people who share similar interests and age ranges. You might join a singles activity group in your area. Getting a gym membership can expose you to new possibilities.
Time
Time becomes a problematic as a person ages, especially if the person is a workaholic. Working full time, taking care of kids, caring for pets and attempting to get in some much-needed "you" time on the weekends leaves very little availability for meeting other people. If dating is a priority for you, clear out your schedule a little and give yourself time to participate in the dating scene. Reorganize how you allocate your time during the week and weekend. Grant yourself permission to skip yoga class.
Family
Many middle aged men and women are divorced, and many have kids from past marriages. If you are divorced with kids -- and are dating someone who is also divorced with kids -- the thought of introducing the two sets of children can be daunting. Informing your ex-spouse that you are seeing someone is also tricky. These types of pressures take a toll on middle-aged relationships, and might be a deterrent for dating.
Independence
Single, middle-aged men and women develop their own sense of independence; this is a hard habit to break when entering into a relationship. It may be especially difficult for someone who never settled down. The eternal bachelor might not know how to share his bathroom with a woman. A woman who has lived on her own for most her life might have very little patience for a man's household habits. The longer a person resides on his own, the more attached he grows to his way of life. Meeting someone who is middle-aged -- and stuck in his or her ways -- can be difficult to overcome.
View Singles Near You