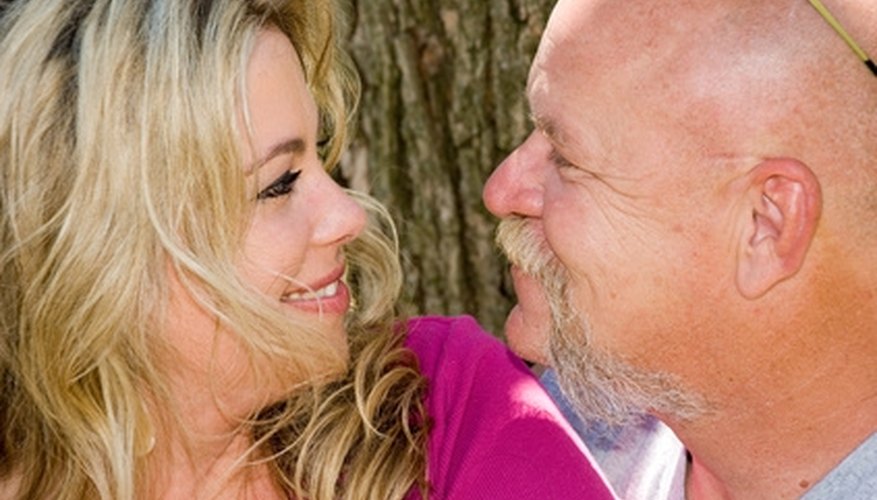 Bundles of Baggage
The older the man, the more likely he is to be weighed down with baggage. If your guy has several previous marriages under his belt, and perhaps even a gaggle of kids to which to tend, your casual romance may be anything but. To determine how much impact your guy's relationship past is going to have on your future together, be on the look-out for issues created by his baggage from the start. If his past relationships appear to complicate his life greatly, be sure you are ready to handle this added relationship stress.
Lack of Shared Experiences
If you grew up in the neon-clothing-rich 80s, you may have little in common with the silver-fox you have your eye on. If the guy you desire has memories of where he was the day Kennedy was assassinated, and you don't even remember the Challenger disaster, your love affair may suffer from a lack of shared experiences. While this lack of shared experiences won't necessarily spell relationship failure, it can be an issue when you try to connect, as your connecting fibers may be few and far between.
Different Interests
Age doesn't dictate interests, but it can certainly have an impact. If your man is into old movies and classical music, and you prefer catching a contemporary horror flick and rocking out to the Black Eyed Peas, your relationship may be doomed to failure. If the difference in ages between you and your man leaves you with few shared interests, it may be difficult for you to decide upon activities that you both enjoy, leading to a strained relationship.
Energy Level Discrepancy
While some older men have energy that rivals their younger counterparts, others simply lack this exuberance. If you most enjoy staying out late, engaging in physically demanding activities or dancing the night away, a low-energy older man may not be the best partner for you. While dating an older man doesn't necessarily mean that your guy will tire quickly, you may be more likely to struggle with this issue.
View Singles Near You