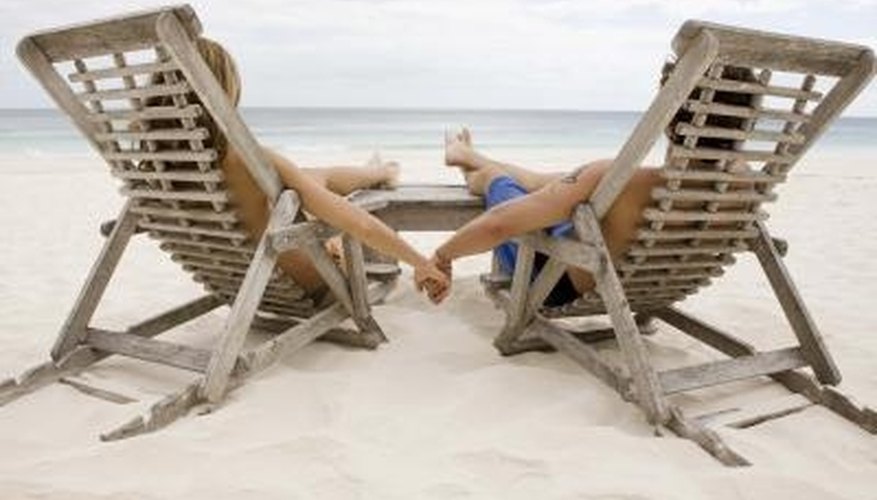 Prepare the food. Planning the best food to bring is crucial as it needs to be beach-friendly and also a step up from deli sandwiches and fried chicken. Bring lemon-baked chicken and risotto or skewers of teriyaki meat and grilled green peppers. Both are tasty when cooked or when cold. Pack along chunks of watermelon and pineapple.
Pack some sweet treats. Bring cupcakes with brightly-colored frosting, such as orange or blue. Pack the foods and dessert in a picnic basket or a small cooler.
Add drinks such as champagne and two lightweight champagne flutes. If you don't drink alcohol or have to drive shortly afterwards, bring sparkling apple cider. Pack bottles of water to stay hydrated.
Bring paper plates, cups, and plastic utensils to the romantic dinner on the beach. Bring plenty of napkins. Include two paper or vinyl tablecloths.
Take along one or two portable lanterns in case it gets dark while you eat dinner. That way you can take your time and not worry about it getting dark.
Set up the scene before you start the dinner. Find the a secluded spot that also has space for you both to sit. Lay out the tablecloths and arrange the food and champagne. Place two battery-powered candles in the middle of the food.
Things You Will Need

Lemon-baked chicken
Risotto
Skewers
Teriyaki meat
Green peppers
Watermelon
Cupcakes
Picnic basket
Small cooler (optional)
Champagne
Champagne flutes
Sparkling cider (optional)
Water bottles
Paper plates
Paper cups
Plastic utensils
Two paper tablecloths
Two vinyl tablecloths (optional)
Portable lanterns
Two battery-powered candles
Bug spray
Tip
Take along bug spray to prevent getting bitten.
View Singles Near You