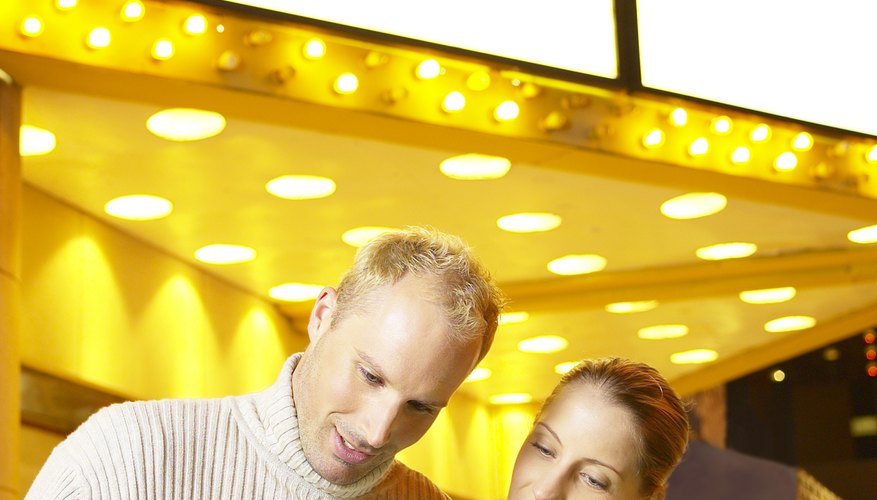 Step 1
Dress casually for a first date to the movies. Choose garments that are dressy but not too formal, such as an outfit you'd wear to the office. Do not wear a T-shirt and jeans, looking like you put forth little to no effort for the date. Also plan for what you and your date will do before or after the movie, such as dining at an upscale restaurant or taking a leisurely walk through a park, as that activity will also dictate what you should wear.
Step 2
Choose a blouse or top in a solid color or in a print that isn't too extreme. Don't choose a top that reveals too much cleavage. Add a blazer to dress up your outfit and give you something to slip on if you get too cold in the movie theater. Match the blouse and blazer with a pair of dressy jeans, leggings or a skirt in a color that complements the blouse. Don't wear a skirt that is so short it's uncomfortable sitting in the movies or that gives your date the wrong idea.
Step 3
Wear a casual-looking sundress or shift dress. Casual dresses show that you are putting forth an effort to look good, but are also comfortable to wear. Choose a dress in a neutral color or print that will not be too extreme or off-putting to your date. Wear a dress in a length you are comfortable with, but that is not too short.
Step 4
Accentuate your outfit with accessories. Choose trendy scarves and shawls to give your ensemble a finishing touch while also bringing attention to your face and neck area. Wear a necklace, bracelet and rings that match your outfit. Avoid wearing jewelry and accessories that are too big or gaudy, as that can distract your date.
Step 5
Choose comfortable yet attractive footwear. While you don't have to wear 4-inch high heels on a first date, you should also steer clear of sneakers and hiking boots. Wear a pair of strappy sandals with your outfit or calf-length boots or flats in a color that complements the rest of your ensemble. Extremely high heels will be too dressy and out of place at a movie theater.
Step 6
Wear what makes you most comfortable and expresses your personality. If you wear something uncomfortable, you may spend the entire night focused on maintaining your look instead of connecting with your date. The more comfortable you are the more you can relax and enjoy yourself.
Things You Will Need

Blouse
Blazer
Dressy jeans
Leggings
Skirt
Sundress
Shift dress
Accessories and jewelry
Sandals, flats or boots
Tip
Stick with a hairstyle that is attractive yet not too complicated and wear makeup that looks natural and is not applied too heavily.
References
View Singles Near You