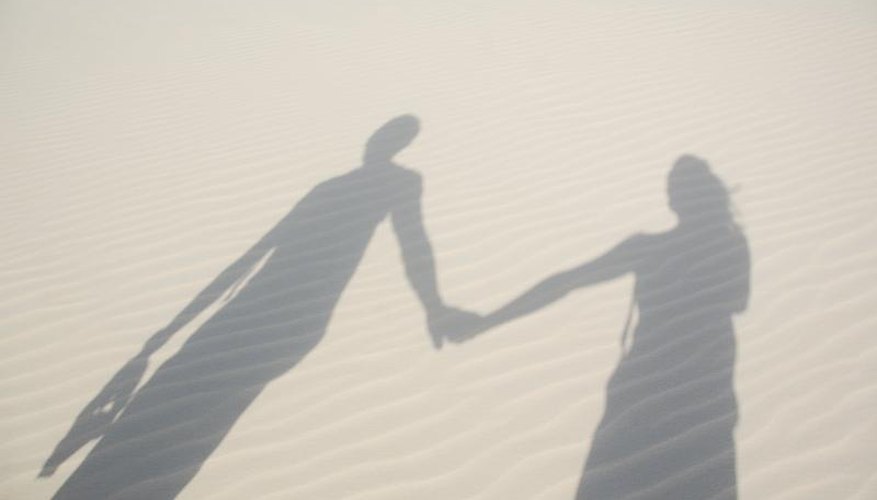 From Ancient Egypt to today, courtship has taken different forms based on social context. Today, dating in Egypt takes place in a traditional, conservative atmosphere, informed by religious beliefs and traditional customs. Most modern Egyptians consider Muslim or Coptic Christian beliefs when it comes to the opposite sex and dating as it is practiced in the West is relatively rare. Even in more "modern" communities like university students, most social interactions still take place in group settings.
Ancient Egyptian Customs
Courtship in ancient Egypt was characterized by discretion and romantic love, with youthful expressions of desire reflected in the poetry of the day. Many women would initiate the courtship, and partners would send love letters to each other, writes Walter Hazen in Ancient Times. Marriage and family life were important in ancient Egyptian society and some women would marry young, typically around the age of 12. Marriages were most likely arranged through families, and no marriage ceremony was performed. In this arrangement, a daughter would be "given" to a suitable mate, who would, in return, give a gift to his new bride. Marriages were sometimes recorded in a legal document, usually to protect each partner's property in the event of divorce and insure the well-being of the wife and children.
Contemporary Egypt -- Muslims
A majority of Egypt's population is Muslim, and might date according to Islamic traditions or rituals, though differences occur depending on class and between urban and rural populations. In traditional Muslim practices, a young man or woman who is looking to marry finds a matchmaker, if he or she does not meet a suitable partner socially through friends, gatherings, school or work, according to Marriage Customs of the World by George Monger. When a match is made, the prospective groom sends a female relative from his family to the prospective bride's father to offer marriage. The fathers of each family assess the families' compatibility and finances, in addition to the compatibility of the couple. If both families agree to the match, the couple would be engaged, while the families make preparations for the wedding. Today, Muslim partners (especially in large cities like Cairo) might undergo more lenient rituals or find mates without a intermediary matchmaker, most likely meeting through through friends and family circles, at school or at work, but family input into the match and participation still plays an important role.
Coptic Christians
In Egypt, there are as many as six to 11 million members of the Coptic Orthodox Church, which traces its origins to the first century A.D. Dating is seen as an important step towards marriage, especially since marriage is seen as a religious sacrament and divorce is rare within the Coptic Church. As is the case with traditional Muslim communities, family members are involved in suggesting respectable pairs for marriage, though the couple is free to agree to an engagement themselves. Before marriage, couples undergo a betrothal ceremony and exchange rings on which each other's names are engraved. Coptic Christians typically marry within the faith, with non-Coptic partners required to convert, notes the BBC.
Moden Dating
In cosmopolitan cities like Cairo, individuals might not follow traditional customs prescribed in either traditional Muslim or Coptic practices. Egyptians with more liberal lifestyles might date others casually, but with discretion, since they live in a traditional society with conservative views about the male-female relationship. The American University in Cairo advises, for example, that public displays of affection, such as holding hands or kissing, are generally eschewed, to avoid provoking disapproving reactions from others. Outside of work and university settings, men and women generally do not socialize freely together unsupervised, even as just friends; socializing in public generally occurs in groups in public places like nightclubs or restaurants.
View Singles Near You
Cite this Article
Choose Citation Style
Laguerta, Dianne. "Egyptian Dating Rituals." Dating Tips - Match.com, https://datingtips.match.com/egyptian-dating-rituals-7338496.html. 25 August 2016.
Laguerta, Dianne. (2016, August 25). Egyptian Dating Rituals. Dating Tips - Match.com. Retrieved from https://datingtips.match.com/egyptian-dating-rituals-7338496.html
Laguerta, Dianne. "Egyptian Dating Rituals" last modified August 25, 2016. https://datingtips.match.com/egyptian-dating-rituals-7338496.html
Note: Depending on which text editor you're pasting into, you might have to add the italics to the site name.