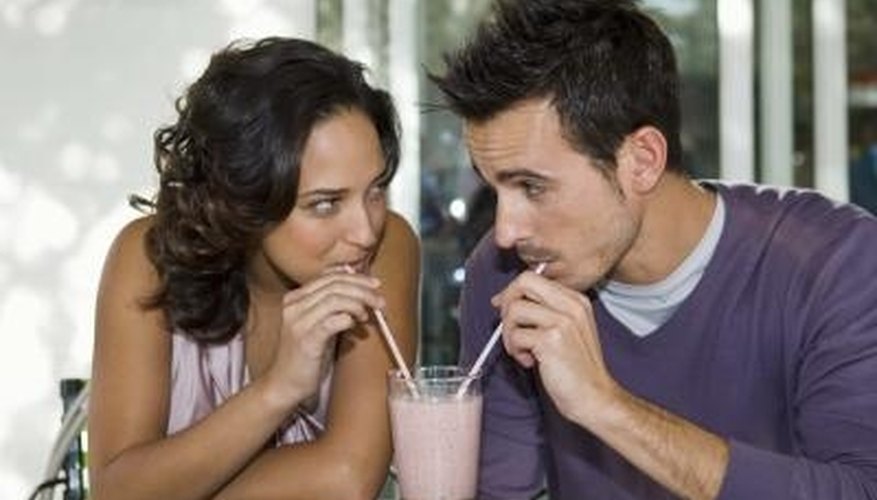 Flirt with your eyes. Catch the eye of the guy you're interested in and give him an unwavering look for a second or two. Break the contact and turn away and watch him again from the corner of your eyes as if you cannot help but look at him. Run your eyes over his body -- his shoulders, arms and other attractive parts of his anatomy. Do the roving more than once. Don't miss his reaction to your sultry and stealing looks. If he is watching you, give a shrug and a wistful expression indicating you cannot just stop admiring his body. Praising him with your eyes is a definite turn-on for the guy.
Show your interest using subtle physical gestures if the guy is watching you. Send your fingers through your hair as if adjusting or make slow tapping motions along your collarbone with your fingers as if playing piano keys). If you're a more adventurous kind, consider this tactic from the "Cosmopolitan" website: Raise one hand over your head as if stretching so that your top moves up a little, giving him a slight peek at your belly; slowly run your other hand over your stomach). All these gestures send him a silent message that you'd like his hands there very much.
Express your physical interest in him using compliments. "I was waiting for my friend. Waiting there, I couldn't help but watching the group of girls over there popping their eyes out at your body. I've been watching you all the while and I'm strongly inclined to agree with them." Your compliment is most likely to send his male ego to a peak and knowing that you're interested in him sparks his interest for you.
Convey your interest using sexual teasers in your conversation with him. Say, "I just love that dance number. It makes me want to dance till I cannot move anymore and sends me soaring high," instead of just, "I love that song." Watch for the guy's reaction to your steamy references.
View Singles Near You