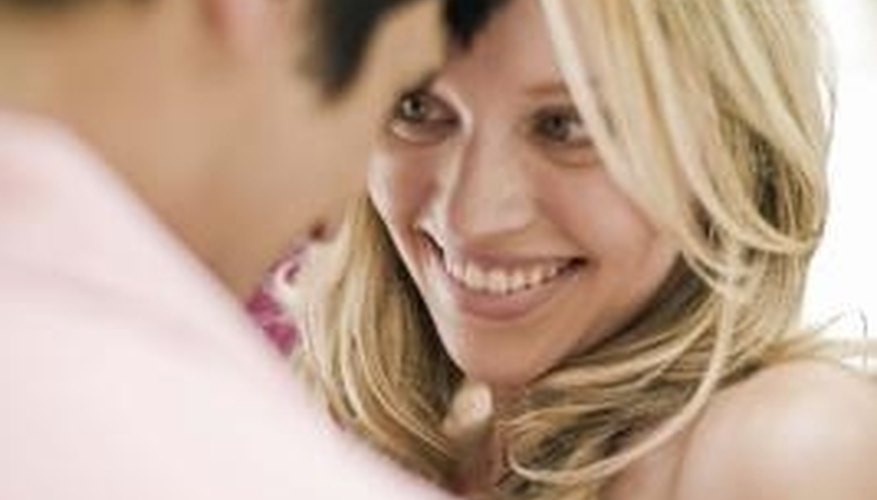 Compliment her. To enchant a woman, give her praise. Authentic flattery will get you everywhere when it comes to flirting with a woman. Keep your compliments respectful. Tell her that she has a fast wit and sense of humor, lush hair or sparkling, clear blue eyes. Make her feel like the most special woman in the room when she is around you.
Engage her in some good-natured ribbing. Old-fashioned, harmless teasing is a fun and playful way to indicate interest in a woman. Flirt with her by establishing a light atmosphere and making fun of her. Some ideas for making fun include saying that you could pick up her entire body with just one hand (because she is so light) and laughing at her adoration of country music.
Pay attention to how you look. With women, flirting is usually ineffective unless a man is properly groomed and looks well put together and tidy. Make sure that your hair is clean and combed, that nothing is stuck in your teeth and that you smell good (although avoid dousing yourself in cologne, which can be a major turnoff).
Act like she fascinates you. If you are attempting to flirt with a woman, then hopefully you already do genuinely find her intriguing. Ask her a lot of open-ended questions about who she is as a person, from her long-term career aspirations to her childhood. Get her talking about topics with depth, from the things that truly make her smile to what drives her to do her best every day.
Act confidently. Men that possess a natural aura of self-confidence and self-esteem are magnetizing to women. Behave in a manner that is self-assured and confident, although not cocky. Walk with straight posture, maintain a relaxed and comfortable body stance and smile a lot. Make sure that it is genuine, as women can spot fake confidence from a mile away.
Look her in the eyes. Eye contact is the gateway to all flirting techniques. A meaningful glance can say a lot more than words. When trying to flirt with a woman, attempt to forge a connection with her through the eyes. Keep your gaze lingering and deep, but not too much as you do not want to scare her away. Aim for gazes that last for roughly three seconds.
Tip
Avoid acting desperate. Take your time before asking a woman for her phone number or email address. Play it cool and see where the flirting takes you. To keep your flirting game strong, abstain from putting all of your cards on the table, at least for a while.
View Singles Near You