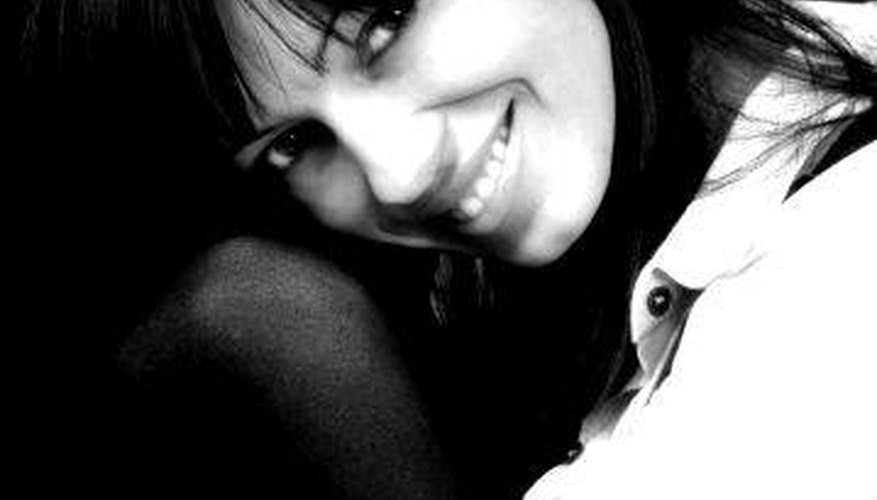 The methods for flirting vary widely depending on the period in time and the culture examined, but there is always the same ultimate goal attached to the practice of flirting: to get the attention of someone else. Some people flirt in order to get the attention of a potential mate while others flirt in an attempt to get their way. There are some people who flirt as a habit because they simply have a flirtatious personality. It's an age-old practice that is bound to continue in one form or another.
History of
Flirting has taken on many different forms throughout the years. What was once considered a blatant form of flirting--such as a woman dropping a handkerchief in front of a potential suitor--would probably not even be recognized as an attempt at flirting in modern times.
Flirting has always been in existence among humans and animals alike. Studies have shown that there are predictable patterns to flirting for both men and women that allow researchers to predict a person's behavior when flirting, and this hasn't changed over the span of time. Just like in ancient times, women still thrust out their chests and men still arch their backs when flirting, and the truly interesting thing is they may not even realize they do it.
Misconceptions
Contrary to popular belief, effective flirting can be a learned talent. While there are some people who seem to have an innate sense of proper flirting tactics for maximum attention from potential mates, it is entirely possible for people to learn how to flirt effectively by observing human behavior and paying attention to what tactics work and which don't. People who feel hopeless when it comes to flirting can take solace in the fact that it's a talent that can be acquired eventually.
Risk Factors
Flirting can be a lot of fun, but people shouldn't make an effort to flirt with every single person they meet. There are some people out there who will consider any amount of flirting as a blatant invitation for something more, and for this reason people should be selective about who they decide to flirt with and who they avoid seeking attention from. When it comes to flirting, it's definitely better to be safe than sorry. The obvious warning: flirting at work can be dicey and under no circumstances, flirt with your boss or other individual who has direct purview over your work. Flirting is best done in social situations far away from the office.
Benefits
Perfecting your flirting skills can have a huge payoff. If you're able to convey an interest in another person without appearing desperate then you have a big advantage when it comes to meeting new people. A person with good flirting skills may be able to compel other people to initiate conversations or ask for a date. Most people enjoy getting positive attention from other people, and flirting is one way to get that kind of attention.
Identification
Since some of the most subtle flirting tactics are subconsciously done, such as posture and eyes dilating, it may be difficult to gauge whether someone is actually flirting with you or not. One easy way to identify whether someone is flirting with you or not is to notice if there is a lot of direct eye contact and smiling. This is the most obvious signal. Also notice if the person acts differently toward you than she does with the other people around her. Does she giggle while speaking to you, but not giggle with anyone else? Does she make an attempt to touch your arm but doesn't reach out to anyone else? These are all relatively accurate signs that someone is flirting with you.
View Singles Near You
Resources
Cite this Article
Choose Citation Style
Butler, Tamsen. "About Flirting." Dating Tips - Match.com, https://datingtips.match.com/flirting-4564798.html. Accessed 31 May 2020.
Butler, Tamsen. (n.d.). About Flirting. Dating Tips - Match.com. Retrieved from https://datingtips.match.com/flirting-4564798.html
Butler, Tamsen. "About Flirting" accessed May 31, 2020. https://datingtips.match.com/flirting-4564798.html
Note: Depending on which text editor you're pasting into, you might have to add the italics to the site name.