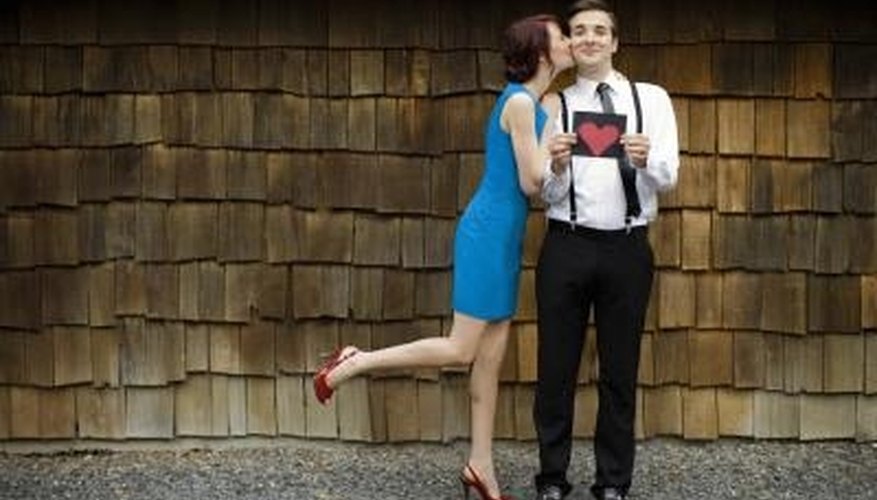 Eye Contact
Eye contact is a simple but effective flirting tactic. When you are in a location and spot a person that you want to flirt with, do not immediately go over to this person. Stay where you are and continue talking and smiling with your friends, though periodically look into the person's eyes. When you know that you have caught his attention, you may want to walk past him, looking at him again. This signals that you are interested in meeting and are available to talk. If the person returns your look, you can approach him and start a conversation, or wait for him to approach you. Eye contact is often the first step in a successful flirtation and conversation.
Body Language
Body language communicates more about you and your desire than you may think. In fact, your words may account for only 10% of communicated information, so it is important to use body language to make a good first impression. To flirt through the use of body language, you may want to touch your hair delicately, which will draw the person's attention that you seek toward you and your feminine features. You can combine this with strong eye contact as well. Always stand poised and confident. Don't slouch, which may communicate disinterest or boredom. Another effective technique is to gently bite your lip. This will draw attention toward you and also toward a flirtatious feature of your body.
Listening
One of the most important aspects of conversation is sincere listening. While you can initiate conversation and bring up topics that the other person may be most interested in discussing, if you don't listen to his responses in a sincere fashion, he will most likely sense your disinterest and discontinue the conversation. Listening is also a crucial conversation tip, because it allows you to really get to know whether you may continue to be interested in the person, once he starts talking.
Compliments
Complimenting a person whom you are interested in getting to know better is a great conversation technique. People are naturally fond of getting compliments. While it may be the easiest to praise something physical about the person with whom you are conversing, you may generate the most interest in yourself if you compliment a person on what they are saying in the conversation. If you agree with something that the person has said, in combination with good eye contact and body language, the person you are interested in will return that interest in you and what you have to say.
View Singles Near You