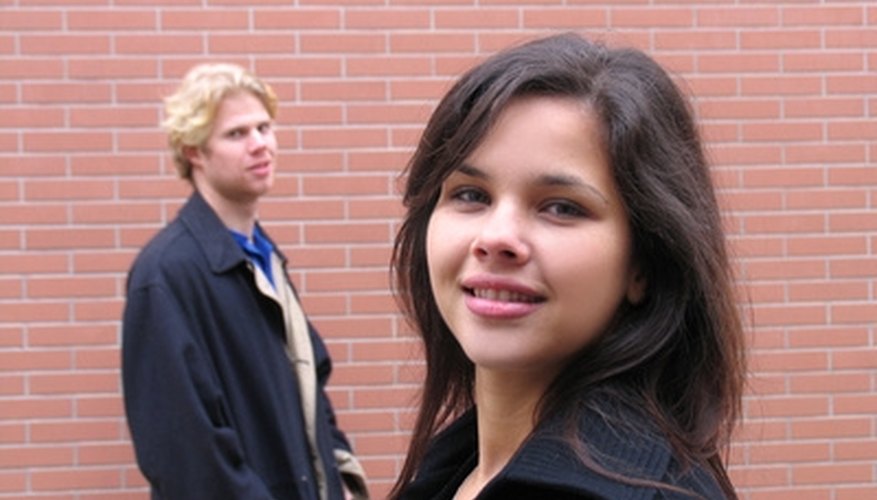 Smile
"See what happens when you smile every time you enter a room," suggests the online article "Free Beauty Tips: Tips For Successful Flirting: Social Interaction And Confident Impressions. "That friendly smile sends out a loud message that you are confident and like to have fun. And while you practice entering every occasion while sporting a wide grin, watch the reaction you receive from men." "Most single guys like to be approached by women, and a contagious smile builds your confidence so that you feel empowered to strike up conversations with men who spark your interest," says the Free Beauty Tips website. "It strokes their ego. So, give it a try!" the online site suggests.
Props
Ordinary objects are easy ways to draw a man's attention directly toward you, says HowToAttractMenGuide.com. For instance, fingering a scarf or a piece of jewelry can seem bewitching to a guy. Or, playing with the rim of your eyeglasses is another technique. These flirting props are especially helpful for women who are uncomfortable approaching a man and prefer that he make the first move. "The key to these being effective is to choose something which will get you attention but not something which will get you unwanted or negative attention from men," says the Free Beauty Tips website. A woman also can rely on hand gestures to convey interest while flirting. For example, she can gently place her hand on a man's shoulder as she speaks with him.
Curiosity
Proceed with caution and gradually build a man's curiosity while you flirt with him, says the How To Attract Men Guide. This creates an aura of suspense and excitement. Says the website, "It is always good to leave something to his imagination when you are flirting with men." At the same time, all the flirting in the world isn't going to work if you are surrounded by your girlfriends. Most single men are too intimidated to approach a woman who is accompanied by several female friends. To stir up a flirtatious encounter, step away from your gal pals and stroll over to the bar, patio or pool table to give a man an opportunity to approach you and to strike up a conversation.
View Singles Near You