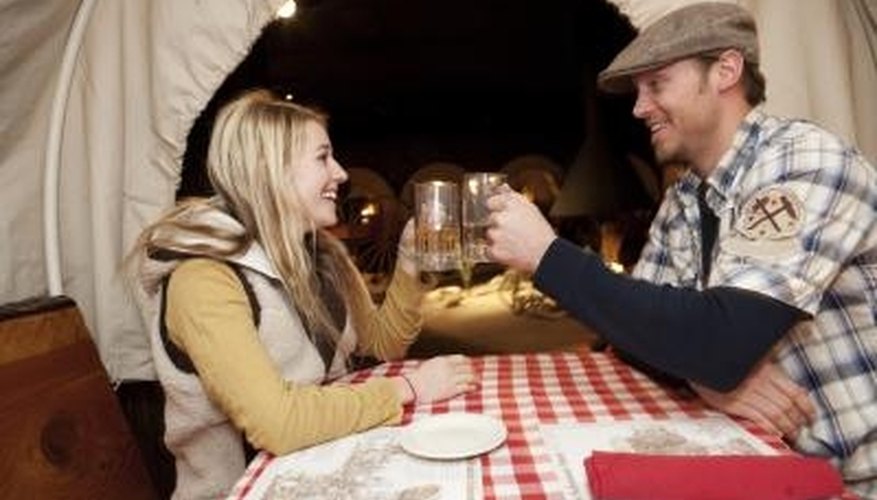 Funny
Humor is an attractive quality to many people. You want a potential boyfriend or girlfriend to know that you can make them chuckle and keep them laughing. Approach someone by asking, "Don't you know me from somewhere?" You'll actually turn the tables on them and force them to engage. You can also use the line, "Pardon me, but have you seen my Nobel Prize around here?" The person will hopefully find your charm endearing and ask you to sit down. Other funny lines include "My cat would like to meet you," and "If you were a hen, you'd be impeccable."
Sexy
It's hard to find a man or woman who doesn't like to be complimented on their looks. If you make someone feel sexy and attractive, they might become attracted to you in return. Say something flirtatious like, "I hope a fireman is around, because you are smoking hot!" or "You've got something on your chest: my eyes." If the guy or girl blows you off, don't persist in the matter. Go on to the next person. You never want to come on too strong. Another option is to make them laugh and feel stunning at the same time with a line like, "If beauty had the ability to kill, you would be a weapon of mass destruction."
Romantic
At the end of the day, the best route to someone's heart might be a direct path. If you're hoping that your pickup will result in a long-term relationship, you can try a few romantic lines on your chosen guy or girl. One question you could ask is, "Are you a believer in love at first sight or do you need me to stroll by again?" If you play it with the right amount of honesty, you might be on your way to a successful night. Another romantic line is, "You must be a microwave oven, because you just made my heart melt."
View Singles Near You