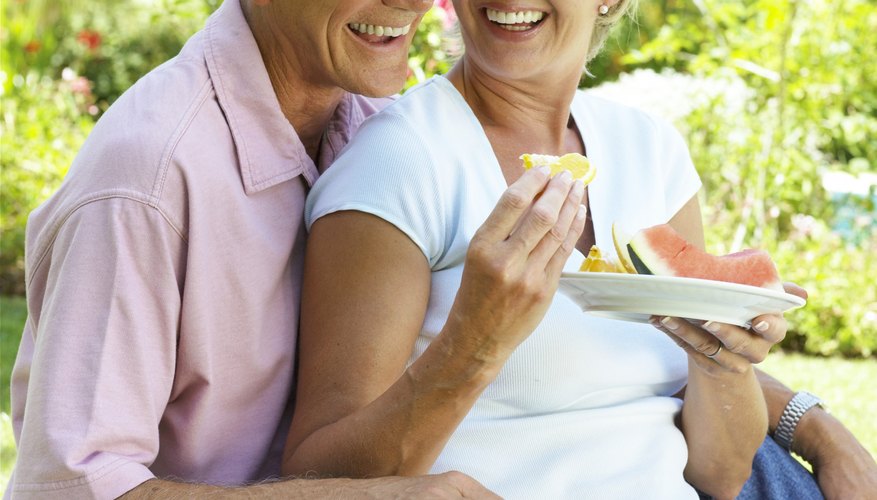 Make a Picnic
The cozy atmosphere of a picnic lends itself to romance. If you will travel to a mountain or lakeside cabin, bring a picnic stocked with romantic foods. Try finger foods you can share, such as gourmet bread and cheese, coupled with wine and figs or grapes for extra romance. At the beach, pick up some seafood from a local market to grill. In the chilly fall or spring, pack a thermos of your love's favorite soup to sip together. For dessert, make a cake or cheesecake in a heart shape. Champagne always adds to the love in the air.
Enjoy Adventure
If adventure and the real outdoors kindle your romance, go kayaking or hiking and spend a weekend camping with your loved one. Food cooked over the campfire and shared together will add to the atmosphere and keep you warm. Freshly caught fish or seafood from a store counter grill well, but even hot dogs cooked over your private fire will fuel the romance.
Make It Fancy
Book a suite, condo or cabin for the weekend and stay indoors. Make the food together or let the one who most enjoys the cooking whip up a special meal for both of you. Add to the fun by using some of the most romantic foods, rumored to have an aphrodisiac effect, including oysters, foie gras, asparagus and eggs--including caviar. A pasta dinner conjures up love because of its cozy, comforting feeling. For the sweet side, choose chocolate or ice cream, and end the meal with a sweet coffee drink to enhance the romance.
Morning Meals
While you enjoy your weekend away, make breakfast in bed for your loved one or share a romantic brunch together. Pancakes--freshly made or frozen and reheated if the thought is more important--start the day off sweetly, topped with syrup, whipped cream or even ice cream. Eggs and bacon, french toast, berries and chocolate all make for a lovely, romantic morning away, too.
View Singles Near You