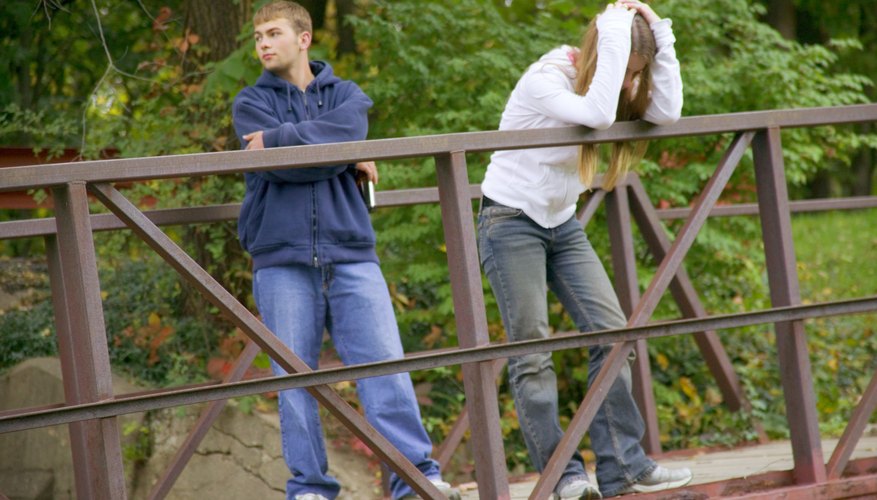 Emotional Abuse
A dating partner inflicts emotional abuse by using words and actions to control her partner's behavior. She might call names, give threats, make false accusations or try to limit her boyfriend's time with friends and family. Even though this form of abuse doesn't leave marks and bruises, the effects can be more harmful. Emotional abuse can cause more pain because it tends to happen more frequently and victims often blame themselves, according to the article in Psychology Today, "Effects of Emotional Abuse: It Hurts When I Love."
Physical Abuse
Physical abuse happens when a dating partner intentionally uses physical force to create injury or fear. Types of physical abuse include shoving, hitting, kicking, biting, strangling or using a weapon. Abusers may also use intimidation tactics such as punching walls, throwing objects or destroying their partner's property, and one out of every 10 high school students have been physically harmed by a girlfriend or boyfriend, according to Love Is Respect.org.
Sexual Abuse
A dating partner commits sexual abuse by controlling sexual activity with tactics like coercion, restricting birth control or having sex with a date who is under the influence of drugs or alcohol. Sexual abuse can turn violent when a perpetrator attempts or commits rape. In fact, some 85 to 90 percent of sexual attacks on college women are by someone they know, and about half of the assaults happen on a date, reports the National Institute of Justice, in the article, "Most Victims Know Their Attacker."
Getting Help
If you know someone who is the victim of dating abuse, let them know you are worried about their safety and would like to help. Be supportive and help develop a safety plan if they decide to end the relationship. Breaking things off with an abusive partner can cause the abuse to escalate, so it is important to help the victim avoid being alone and vulnerable to an attack. Remember that victims of dating abuse often feel the abuse was their fault and may want to get back together with their abuser.
View Singles Near You