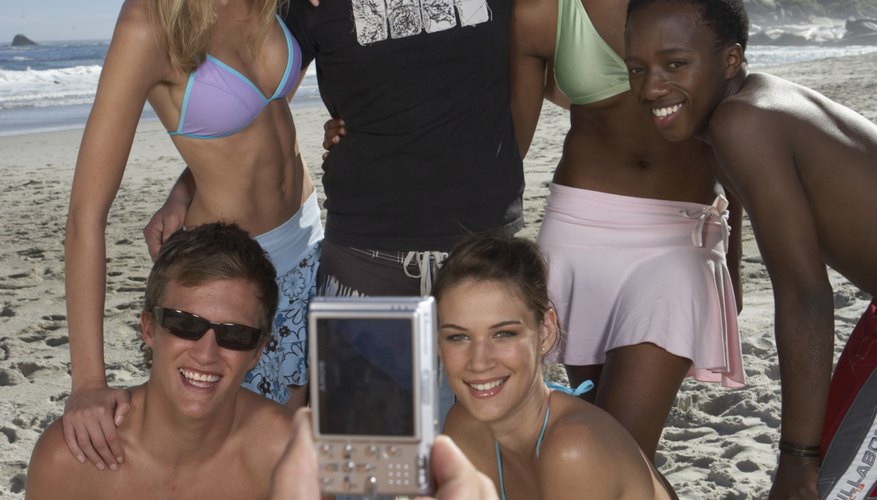 Sporty Adventures
If you and your partner like to stay active, bond over an evening or afternoon of physical activity. Visit a batting cage to perfect your swings or plan an afternoon hike and bring along a picnic for a romantic interlude under the sun. Host a one-on-one, glow-in-the-dark bowling competition; play in the pool at a recreation center's open swim; or go roller blading in warm weather and ice skating in the winter. If you're an armchair sports couple, look for tickets to a minor league baseball game or a playoff between two local hockey teams.
All about Art and Entertainment
Explore your artistic sides together with a visit to an art gallery -- where admission is often free. Scour the local newspaper for free or low-cost concerts, or check out local artists and crafters at a festival in the park. Try something new with an introductory to pottery at a ceramics shop. Indulge your literary sides at a book reading and then share your opinions over drinks at a nearby coffee shop. Bring art supplies to a local conservation area to sketch together or grab your camera and take nature photos or snap pics of each other.
A Night at Home
You can plan a thrifty date at home -- without spending the evening in front of the television. Plan an evening of cooking together using only the contents of your cupboards, or pick up a few inexpensive supplies for chocolate chip cookies, brownies or cupcakes for a nighttime chocolate fest. Share your favorite childhood board games, design your own board game together or pick up a video camera to create a reenactment of your first date or a skit about your future together. Unleash your youthful sides with a game of indoor hide and seek or play flashlight tag in the backyard after sundown.
Give a Little
If you share a love for helping others, use your passion to plan a memorable and fulfilling date. Pitch in with an environmental cleanup at your local park, serve food at a soup kitchen or sort nonperishables and clothing for a charitable organization. If you like to work with your hands, look for a charity building project to work on together or sign up with a tree planting organization. Raise funds for charity by hosting a yard sale together, organizing a car wash or arranging a charity baseball game at a local field -- a group date for a good cause.
View Singles Near You