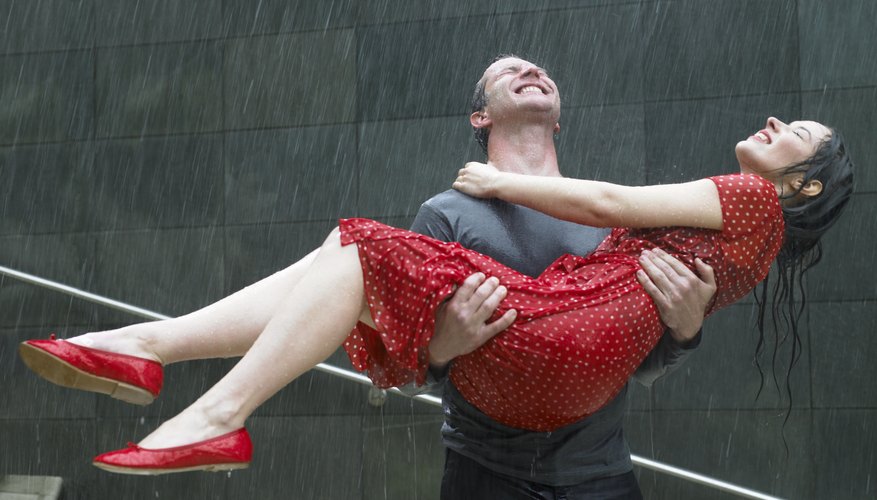 Game Day
Plan a game day together. Tweak each other's competitive natures and thinking skills. Pull out board games, card games and video games. Create a game of your own with your own rules. Alternate between games so you do not become bored. Play a card game tournament, and the person who wins the most matches wins the tournament.
Movie Marathon
Choose a movie series or television series. Order pizza, fix popcorn, make ice cream sundaes and curl up for a rainy day movie marathon on the couch. Turn the romance dial up a notch by laying out a blanket on the floor and turning your movie marathon into a living room popcorn picnic for 2 in front of the television. Take breaks in between shows to talk about your favorite scenes or characters.
Meal Prep
Though a romantic picnic outside is ideal, a romantic dinner by candlelight is just as effective. Prepare the meal together and make it a challenge by Using only the food you already have in the kitchen. Search recipe books or the Internet for a recipe you have always wanted to make but never tried. Gather the ingredients, turn on some soft music, light candles and saute, broil and fry. Complete the rainy day with an evening bake-fest so you can indulge in all of your favorite sweet treats.
Play Outside
While sunny, outdoor activities may be canceled, exploring the outdoors isn't out of the question, even in the rain. Put on a raincoat and galoshes, and splash in the puddles to show off the child within. Play a soccer or basketball game in the downpour. Go for a jog, dry off back at the house and fix coffee or hot chocolate to warm up.
View Singles Near You