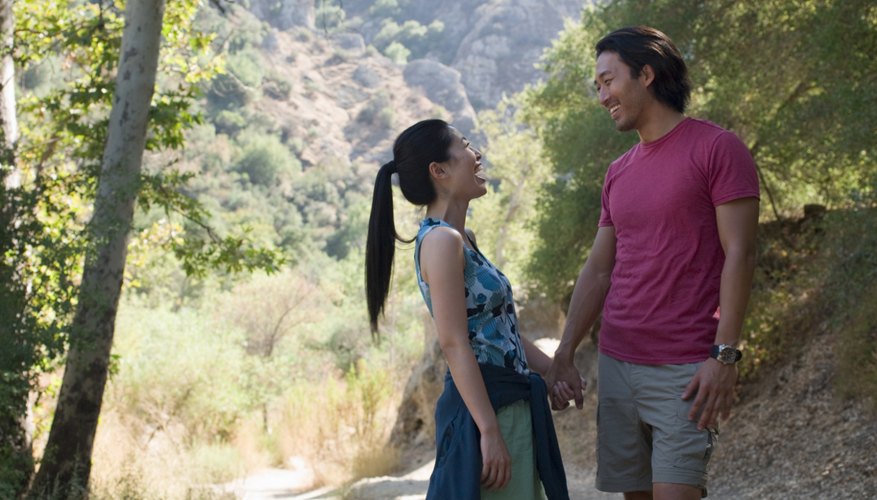 Create Something Together
Get crafty with your guy, creating a work of art together as a couple. Visit a paint-your-own-pottery studio and create some ceramics, such as his and hers coffee mugs. If you want an even more artistic option, try buying some paints and canvases and doing some paintings that you can use to fill your walls. Not only does this option pass some time, it also leaves you both with handmade tokens of your love.
Get Sporty
If you are athletic, or just wish you were, treat your guy to a day of sporting fun. Buy some sporting supplies and head out to the park, kicking a soccer ball back and forth between you or playing a game of catch. If the weather isn't conducive to outdoor fun, or if you just want to do something a bit different, buy day passes at a gym and hit the pool or play some racquetball.
Head to a Museum
Make your time with your guy educational by heading to a museum. Visit an art museum. You can talk about which pieces you would buy to fill your homes if you had the option.
Snuggle Up
Spending the day with your guy doesn't have to mean a busy day out. If you and your guy are both still in school, hold a snuggle and study session. Gather your books and have your guy do the same. Cuddle close together on your bed and study. By keeping your guy close while you do this, you may be able to make your studying more enjoyable, and help him better appreciate his time hitting the books. If school is history, pull out your favorite books instead and take turns reading to each other. Bring a romantic picnic lunch to the backyard and cuddle up on a blanket while you read to one another.
Whip Up a Meal
Treat your guy to a day of home cooked delights by joining him in the kitchen. Make any day into a Thanksgiving holiday by preparing a turkey and all the fixings. As you smell the delicious meal cooking, relax and watch a movie or engage in a similarly stress-free activity. You can prepare your favorite meal for each other instead or satisfy a sweet tooth by baking brownies, cookies and petit fours.
View Singles Near You