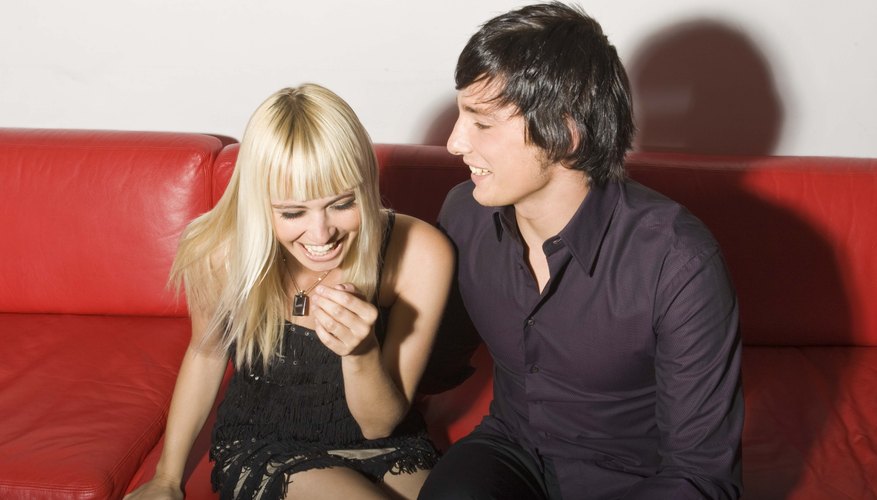 Questions to Break the Ice
When you only have a few minutes to extract as much information as you can from the girl, questions to break the ice seem like a luxury. However, a funny question can make her feel more comfortable and form a positive first impression. Such questions can be focused on you ("Do you think I look like Donald Duck in this jacket?") or comment on something in the room ("Are these chairs uncomfortable to keep us on the move?"). Avoid questions about her outfit or appearance that can make her feel uncomfortable.
Follow the Conversation
Prepare funny questions to ask when a specific topic arises during your short conversation. For example, when she mentions that she hates working the graveyard shift, you can answer with a question: "Do cemetery workers prefer the graveyard shift?" If at any point of your conversation she remarks that love is blind, you can ask her why lingerie is so popular. Make sure you don't overdo it with funny questions during the conversation. One or two will be plenty.
Funny Dilemmas
You don't need any specific reason to pose a funny dilemma. In fact, it can help you move on with your chat during moments of silence. The few minutes you have in speed dating don't allow time for thinking. An example of such a dilemma could be if she prefers Daisy Duck to end up with Donald or Gastone. This is a question that can help you steer the conversation to relationships. You also can pose the more risque dilemma: "Is it size that matters or how you use it? ... I mean the bank account."
Hypothetical Questions
Hypothetical questions are a way to move on with your conversation, as well as discover more about her preferences and character. For instance, you can ask whom she would abduct if she was an alien. Be careful not to ask questions that are too general and can't be answered quickly or accurately, such as what makes her laugh.
View Singles Near You