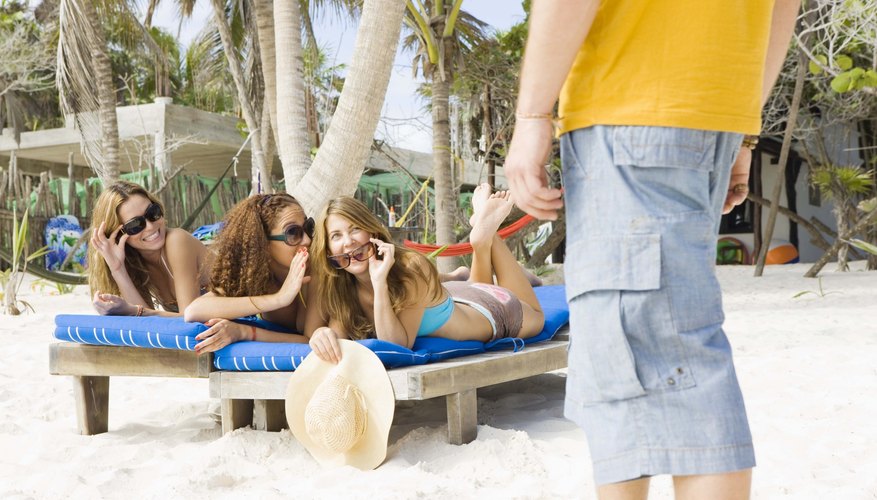 Message in the Sand
Draw a love message in the sand at the beach or in the dessert. "I love you," or "You are the love of my life," are good choices. Then have someone take your picture or videotape you while you are standing next to the inscription. Send the picture or video via email, or post it on your favorite social networking site. If you are willing to go to this extreme for another person, you are probably in love.
T-Shirt
Make a T-shirt or hat that expresses your love for someone. For example, design a T-shirt that says "Jane loves Mike." Or "Jane loves …" and have an arrow pointing off to one side, inserting appropriate names, of course. Have these shirts made at a printing shop, or you can make one with a blank T-shirt and fabric paint. Wearing something like this with pride is a sign you are in love.
Coupon Book
Develop a coupon book with coupons that say things such as "good for a free massage," " or "good for 10 'I love yous.' " If you are giving the coupon book to a guy, add things such as " good for a free car wash" or "good for not mowing the lawn for a month." Then, do the task yourself, or hire someone to do it for your loved one. Being selfless is a sign of love.
Yard Hearts
Cut out heart shapes from thick foam or cardboard. Paint the hearts red or pink. On each heart, add a message such as you would see on candy Valentine hearts. Examples include "I love you" or "be mine." Glue the hearts onto plastic straws or lawn sticks. Sneak over to your love's house, and place the sticks in her yard for a funny morning surprise. This type of silliness usually only occurs when you are totally in love with someone and you want to let her know.
View Singles Near You