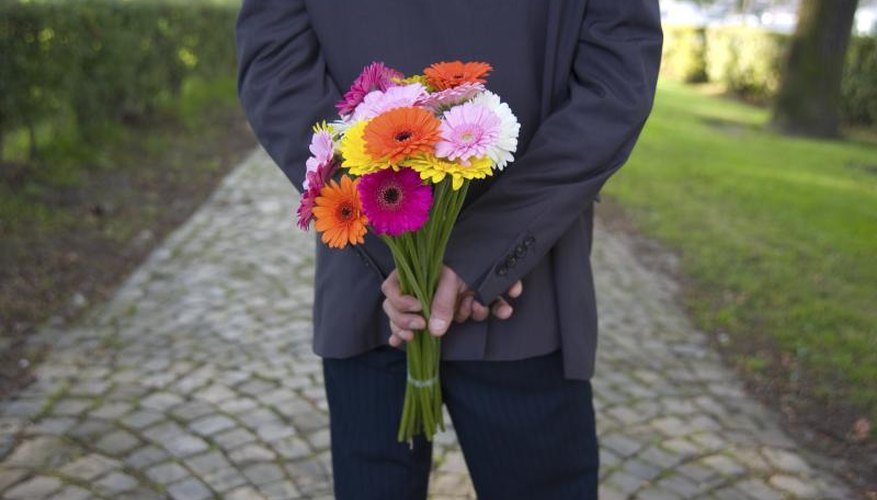 Love Relationships and Gestures
Love relationships allow for a more personal level of loving gestures. Aside from kissing, hugging and the act of making love, couples often use other forms of touch. For example, a sensual massage, hand-holding or cuddling. Touching -- even a soft caress -- is a nonverbal gesture that communicates love. At the core of these actions are feelings of deep respect, admiration and appreciation that your partner has for you.
Gestures of Love: Family Relationships
Many parents will do anything for their children: open their homes for a place to live, cook huge meals and buy them things. Parental gestures of love are generally unconditional and are fundamental provisions of survival that stem from their original role as provider/caretaker. The ultimate way that a parent displays love is by making sure their children have everything needed to survive and succeed in life. Your dad might make sure your new home is up to constructional standards, or he might buy you a safe and reliable vehicle for your first car. Your mom might take you shopping for linens, drapes, and kitchenware -- and then help you decorate your new home. Parental gestures of love are functional and focus on an overall, usually long-term, purpose.
Gestures of Love: Friendships
Friends have an exclusive way of showing love that parents and spouses can't quite match. Friends listen and offer advice without passing judgement, but a friend can also show a gesture of love by making sacrifices he isn't obligated to make. For example, taking a day off from work to come help you move. A friend may drop everything to be by your side, providing moral and emotional support, after a breakup. The theme in friendship love gestures is platonic -- if you need a ride, you got it; if you're single and your friend knows an available guy or gal, you're the first person that comes to mind.
Attachment: the Common Theme
Everyone needs love, whether it comes from friends, family members or a romantic relationship. A common theme that begins in infancy and follows us into adulthood is the idea of attachment, according to psychologist Meredith Hansen in her website post "Love and Relationships." Attachment is the ability to form bonds and relationships, which is manifested through behavior and actions -- gestures. Regardless of the type of relationship you have with someone, you can both show and find reassurance in these gestures. Be physically and emotionally available, making time for your loved ones. Staying up all night to take care of a sick parent, flying several miles to be with your partner, smiling or winking at a friend to cheer her mood -- these gestures are all a part of building that key connection, or attachment.
View Singles Near You